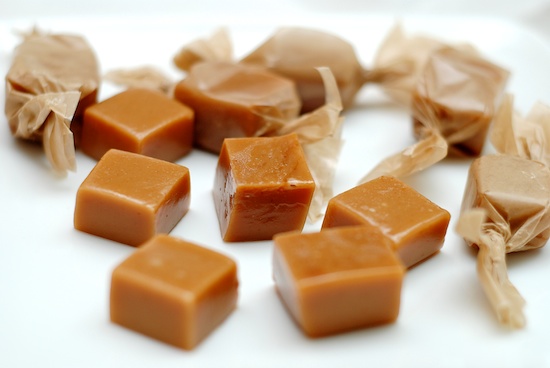 I've never made caramels before and I was surprised by how easy it was and how delicious they are. They're much better than store-bought.
In order to make candy, you need a candy thermometer. It's important that you stop cooking the caramel once it hits 250 degrees F or you will end up with a much firmer consistency than traditional caramels. Cooking the caramel to 240-250 degrees will bring it to the "soft-ball" stage, which is perfect for caramels. This means that when you drop some of the caramel mixture into a glass of cold water, it will form a ball that will not flatten when you remove it from the water, but it will certainly be malleable. I used both a candy thermometer and a glass of cold water when making my caramels, just to make sure that I stopped cooking them at the right time. I didn't want to end up with rock-hard candy.
Needless to say the boys LOVED these!
Caramels
Recipe adapted from Barbara at allrecipes.com

1 cup white sugar
1/2 cup packed brown sugar
1/2 cup corn syrup
1/2 cup evaporated milk
1/2 pint heavy whipping cream
1/2 cup butter (1 stick)
3/4 teaspoon vanilla extract

Grease an 8×8 inch pan or line it with wax paper.

In a medium-size pot over medium-high heat, combine sugar, brown sugar, corn syrup, evaporated milk, cream, and butter. Monitor the heat of the mixture with a candy thermometer while stirring. When the mixture starts to boil, stop stirring and let it boil. When the thermometer reaches 250 degrees F, remove the pot from the heat.

Stir in the vanilla. Transfer mixture to the prepared pan and let the mixture cool completely. When cooled cut the caramel into small squares and wrap them in wax paper for storage.

Yield: 64 small caramels

One year ago: Yucatán Pork Tenderloin
Two years ago: Carole's Country-Style Spare Ribs
Three years ago: Buttermilk Bran Muffins

Print This Recipe