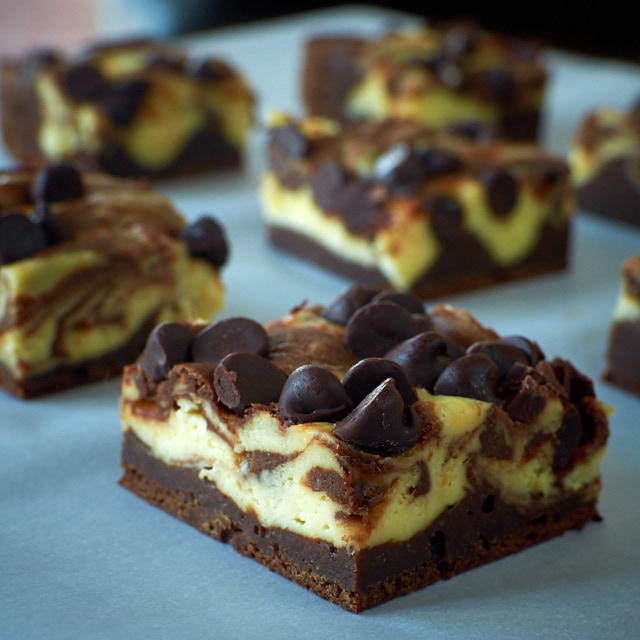 How many of my boys eat these? 2/4, only 50%. Two of them claim they don't like cheese, so they won't go near them. I tried to explain that these don't taste like the cheese that they claim they don't like, but they weren't buying it. I say, more for the rest of us!
These brownies are a nice combination of cheesecake and chocolate brownie. Two of the boys really love these. They're both cheesecake fans, and who doesn't like chocolate, so the combination for them is one of their favorites.
These are best served cold from the refrigerator. We like ours straight from the freezer as well. If you chill them before you cut them, you'll get much neater squares.
Cheesecake-Swirled Brownies
Recipe from Smitten Kitchen

Brownie batter
1 stick (1/2 cup or 4 ounces) unsalted butter, cut into pieces
3 ounces unsweetened chocolate, chopped
1 cup sugar
2 large eggs
1/2 teaspoon pure vanilla extract
2/3 cup all-purpose flour

Cheesecake batter
8 ounces cream cheese, well softened
1/3 cup sugar
1 large egg yolk
1/4 teaspoon pure vanilla extract

Plus
1/2 cup semisweet chocolate chips

Make brownie batter:
Put oven rack in middle position and preheat oven to 350°F. Butter an 8-inch square baking pan. Heat butter and chocolate in a 3-quart heavy saucepan over moderately low heat, whisking occasionally, just until melted. Remove from heat and whisk in sugar, eggs, vanilla, and a pinch of salt until well combined. Whisk in flour until just combined and spread in baking pan.

Make cheesecake batter:
Whisk together cheesecake batter ingredients in a small bowl until smooth. Dollop over brownie batter, then swirl in with a knife or spatula.

Sprinkle chocolate chips over cheesecake/brownie batter swirl.

Bake brownies:
Bake until edges are slightly puffed and center is just set, about 35 minutes. Serve warm or at room temperature.

Slicing tip: Chill brownies until they're almost frozen before cutting them. It makes it much easier to get a clean slice.

Yield: 16 2″x2″ brownies

One year ago: Butterscotch-Bourbon Blondies
Two years ago: Lemon Fusilli with Arugula
Three years ago: Broccoli, Cheddar and Wild Rice Casserole
Four years ago: Butterscotch-Bourbon Blondies
Five years ago: Soft Chocolate Cookies with Peanut Butter Frosting
Six years ago: Chicken and Rice Stoup
Seven years ago: Sugar-Crusted Popovers
Eight years ago: Whoopie Pies!
Nine years ago: Chocolate White Chocolate Chunk Cookies

Print This Recipe