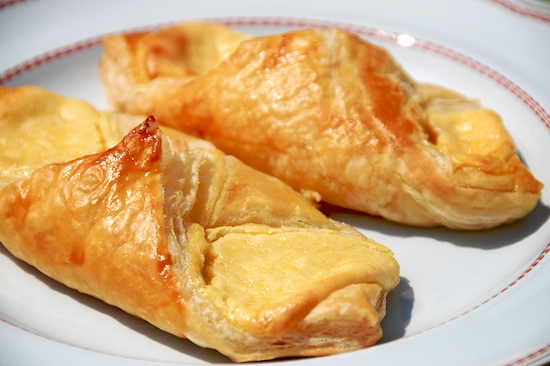 I made these the other morning and they were incredible.   I'm embarrassed to say that every now and then I love a slice of Entenmann's cheese danish.   I don't have it often, but I always feel like I can eat the whole thing, it tastes so good.    I now don't have a need to ever purchase a cheese danish again.  These are delicious.   The cheese is smooth, sweet and flavorful.  The lemon zest is a must.   If you find that you're zesting lemons and limes a lot, or even just occasionally, it's worth investing in a microplane grater.  They make zesting citrus a dream.
These came together in no time, and disappeared as quickly. This is a great breakfast treat if you have house guests visiting. Two of our house guests told me that these looked professionally made. That made my day.
When you pull these out of the oven, they will be very puffy. They will fall soon thereafter. Don't worry. This is normal.
This is another Ina Garten recipe. If you don't have any of her cookbooks, I highly recommend them. They are some of my favorites.

Easy Cheese Danish
Recipe by Ina Garten from Barefoot Contessa at Home

8 ounces cream cheese, at room temperature
1/3 cup sugar
2 extra-large egg yolks, at room temperature
2 tablespoons ricotta cheese
1 teaspoon pure vanilla extract
1/4 teaspoon kosher salt
1 tablespoon grated lemon zest (2 lemons)
2 sheets (1 box) frozen puff pastry, defrosted
1 egg beaten with 1 tablespoon water, for egg wash

Preheat the oven to 400 degrees F. Line a sheet pan with parchment paper.

Place the cream cheese and sugar in the bowl of an electric mixer fitted with a paddle attachment and cream them together on low speed until smooth. With the mixer still on low, add the egg yolks, ricotta, vanilla, salt, and lemon zest and mix until just combined. Don't whip!

Unfold 1 sheet of puff pastry onto a lightly floured board and roll it slightly with a floured rolling pin until it's a 10 by 10-inch square. Cut the sheet into quarters with a sharp knife. Place a heaping tablespoon of cheese filling into the middle of each of the 4 squares. Brush the border of each pastry with egg wash and fold 2 opposite corners to the center, brushing and overlapping the corners of each pastry so they firmly stick together. Brush the top of the pastries with egg wash. Place the pastries on the prepared sheet pan. Repeat with the second sheet of puff pastry and refrigerate the filled Danish for 15 minutes.

Bake the pastries for about 20 minutes, rotating the pan once during baking, until puffed and brown.  Serve warm.

Yield: 8 danish

Print This Recipe