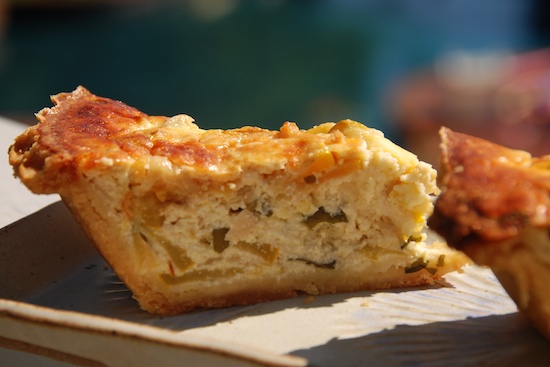 This recipe is now definitely part of my summer rotation. I've made it once a week now for the last three weeks. It's a perfect late summer dish because there's a lot of zucchini to be found at the farmers markets at this time of year. I tried to grow my own zucchini this year, but it didn't work. I don't think I watered it enough.
This is a perfect side dish for dinner. It would also be perfect for lunch or brunch served with a nice green salad.
The original recipe did not call for onion or garlic, but I love sauteed zucchini with both onion and garlic, so I decided to add them to this recipe. The original recipe calls for fresh dill which I didn't have, so I substituted fresh thyme instead and it worked perfectly. You can also try basil. I bet that would work well also.
The original recipe calls for sauteing the zucchini for 5 minutes until it browns.   I like to cook my zucchini a little more, so I cooked it for at least 15 minutes until it was pretty soft.   The thinner the zucchini is, the faster it will cook.   I also found that I had to add a little more oil to the pan so it didn't get too dry.  Sometimes I add a couple of tablespoons of water as well to speed the cooking.
Don't skip the nutmeg. Although it's only a pinch, it adds a nice, subtle flavor to the tart. If you can grate a fresh nutmeg yourself, even better.

Zucchini and Ricotta Tart
Adapted from recipe by Rachel Ray

4 zucchini (about 2 1/2 pounds), thinly sliced crosswise
1 clove of garlic, minced
1/2 small onion, very thinly sliced (use a mandolin if possible)
Salt and pepper
1 sheet frozen puff pastry, thawed
2 tablespoons butter
1 1/2 teaspoons chopped fresh thyme (or more, to taste)
3 eggs, beaten
1 cup ricotta cheese
1/2 cup grated parmesan cheese, plus more for sprinkling
1/2 cup half-and-half
1 pinch nutmeg

Preheat the oven to 350°. Layer the zucchini in a colander, sprinkling each layer with salt; let stand for 20 minutes. Rinse, then pat dry.

Meanwhile, on a lightly floured surface, roll out the puff pastry to remove the creases. Press the pastry into a 9-inch pie plate and trim the excess, so the crust is flush with the rim. Prick the bottom of the pastry with a fork. Refrigerate.

In a large skillet, melt the butter over medium-high heat. Add the garlic and cook for 1 minute until lightly browned. Add the onion and cook for an additional 2 minutes. Add the zucchini and cook, turning, until golden and soft, about 15 minutes or so.  Sometimes I need to add a little more liquid (either a bit more oil, or a couple of tablespoons of water) to make sure that the zucchini doesn't burn.  Stir in the thyme and remove from the heat; let cool to room temperature.

In a bowl, whisk together the eggs, ricotta, 1/2 cup Parmesan and the half-and-half; season with salt, pepper and the nutmeg. Stir in the zucchini. Pour the mixture into the chilled pastry crust and sprinkle with more Parmesan. Bake until a knife inserted in the center comes out clean and the top of the tart is lightly browned, about 1 hour and 10 minutes. Let cool slightly before slicing.

Yield: 8 servings