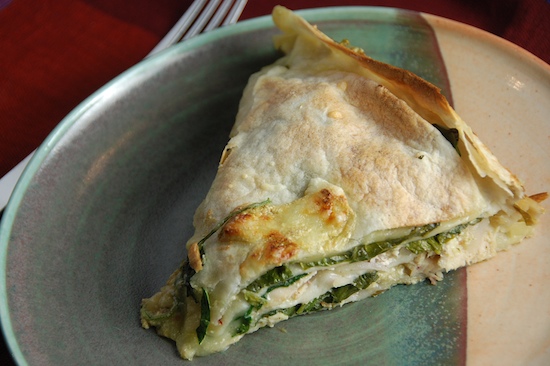 My husband usually likes my food, but occasionally I make something that isn't his favorite.    The great thing about my husband is that he gives his honest opinion about everything he tries.   If he doesn't like something, he's very diplomatic, but he's clear about his dislike.   When I made this, I wasn't sure what he was going to think about it because I've never made anything like it before.    Well, you should have seen the smile on Charles' face when he ate this.   He said he loved it and wanted to know when we'd have it again.   It has to be a really good recipe for Charles to be so enthusiastic about it.    We had it again last night, and boy was he happy.
This recipe is spicy!    You can control the heat by varying the salsa and the cheese that you use in the recipe.  The first time I made it, I used pepper jack cheese and a salsa verde that said, "HOT!" on it.    I was only able to eat a single piece, which filled me up for the rest of the evening.   I have heard that spicy food fills you up and suppresses your appetite, and I can certainly attest to that fact based on eating a single slice of this.
This is a quick and easy dinner that will become a staple in our dinner rotation.  It's great heated up as a leftover also.
Spinach and Chicken Tortilla Bake
Recipe from Rachel Ray

1 tablespoon extra-virgin olive oil
4 chicken cutlets (about 1 pound)
Salt and pepper
1 1/2 cups store-bought salsa verde
3/4 cup ricotta cheese
4 large (8″) flour tortillas
1/2 red onion, thinly sliced
3 cups baby spinach (about 1/4 pound)
2 cups shredded pepper jack cheese

Preheat the oven to 450°. In a large skillet, heat the olive oil over medium-high heat. Season the chicken with salt and pepper, add to the pan and cook, turning once, until cooked through, about 5 minutes. Let cool, then shred the meat.

Whisk together the salsa verde and ricotta; season with salt and pepper. In a greased 9-inch square baking dish, layer one-third of the salsa mixture, tortillas, chicken, onion, spinach and pepper jack; repeat twice. Bake until golden-brown, 15 to 20 minutes. Let stand for 10 minutes before serving.

Yield:  4 servings

Print This Recipe