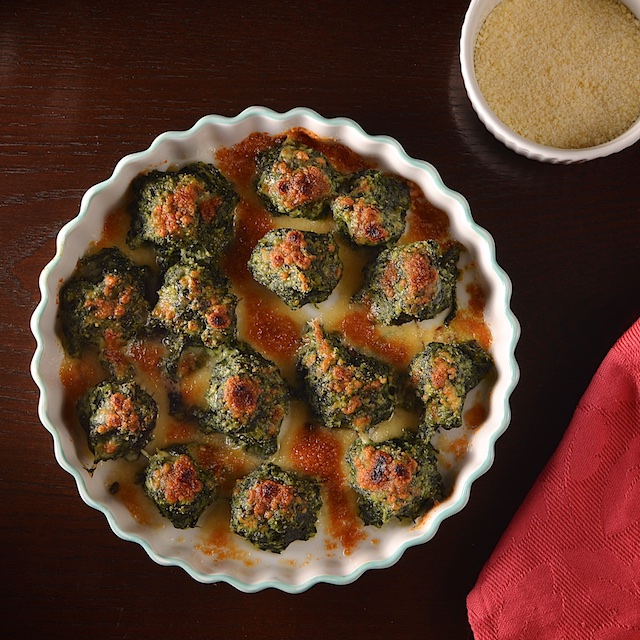 One of the many reasons I love shopping at Trader Joe's is because of their frozen food section. They have the most interesting frozen vegetables. Two of my favorites are their sliced peppers and cleaned and sliced leeks. They sell 10 oz. bags of frozen, chopped spinach too, which are perfect for this recipe. For the last couple of weeks, my TJs has been out of frozen spinach, so I have had to use fresh baby spinach (I used four 5-oz. bags), which adds a little extra cooking to this recipe, but is just as delicious.
When making this, it's important to cook the spinach until nearly all of its moisture has evaporated. If it hasn't, your dumplings will be too moist and there's a chance that they'll fall apart when you boil them.
Another tip about this recipe: the dumpling mixture takes a full hour to chill, so do allow enough time for that when you start the recipe. When you boil the dumplings, you'll notice that some of the chopped spinach comes off in the water. I haven't figured out how to avoid this.
These can be served as an appetizer, or as a side dish with dinner. They are also incredible as leftovers. I ate a plate-full for lunch and they were delicious and very satisfying.
My husband and I love these dumplings. The boys? Want to take a guess? Not one taker. Go figure.
Gnocchi Verde (Spinach and Ricotta Dumplings)
Recipe from Food52

4 tablespoons butter
Two 10-ounce packages frozen chopped spinach, defrosted completely, squeezed dry of all moisture, and chopped very fine (about 1 1/2 cups), or 1 1/2 pounds fresh spinach, cooked, squeezed dry, and chopped
3/4 cup ricotta cheese
2 eggs, lightly beaten
6 tablespoons flour
3/4 cup freshly grated Parmesan, divided, plus more for serving
1/2 teaspoon plus 1 tablespoon salt, divided
1/2 teaspoon freshly ground pepper
Pinch of ground nutmeg
4 tablespoons melted butter, divided

Melt 4 Tablespoons of butter in a large skillet over medium heat. Add the spinach and cook, stirring constantly, for 2 to 3 minutes, or until almost all of the moisture has boiled away and the spinach starts to stick to the skillet.

Add the ricotta and cook, stirring, for 3 to 4 more minutes.

Transfer the spinach-ricotta mixture to a large mixing bowl and use a rubber spatula to mix in eggs, flour, 1/4 cup grated Parmesan,1/2 teaspoon salt, pepper, and nutmeg. Place in the refrigerator for 1 hour, until the mixture is quite firm.

Preheat the broiler and bring 6 to 8 quarts of water, seasoned with the remaining 1 tablespoon salt, to a boil over medium heat in a large pot. Flour your hands lightly and shape the chilled gnocchi into balls about 1 1/2 inches in diameter. Drop the gnocchi gently into the simmering water and cook for 5 to 8 minutes, until they puff slightly and are somewhat firm. Lift them out of the water with a slotted spoon and transfer to a plate lined with a towel to dry.

Pour 2 tablespoons of the melted butter into a shallow, ovenproof dish and swirl it around to evenly distribute.Arrange the gnocchi in one layer across the bottom, leaving about 1/4 inch between each one. Dribble the remaining 2 tablespoons of butter over top, then sprinkle the gnocchi with the remaining 1/2 cup of cheese. Broil for about 3 minutes, until the cheese melts and is golden brown.

Serve at once, with additional grated cheese if desired.

Yield: 4 – 6 servings

Two years ago: Chocolate Mayonnaise Cake with Brown Sugar Frosting
Four years ago: Cocoa Banana Muffins
Five years ago: Honey Wheat Cookies
Six years ago: Sugar Cookies with Royal Icing
Seven years ago: Turkey Meat Loaf

Print This Recipe