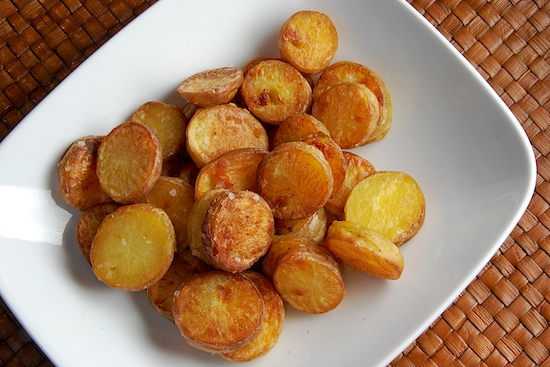 My boys LOVE these potatoes.   They're really crispy on the outside and nice and light on the inside.   They're some of the best roasted potatoes I've ever eaten.   They're best eaten hot from the oven, but I like them as leftovers as well, although they're not as crispy the second time around.  I found this recipe in an issue of Cooks Illustrated magazine, which I love.   If you're looking for a gift for someone that likes to cook, consider giving an annual subscription.    The magazine is full of great recipes and there are no ads!
The keys to this recipe are: parboiling the potatoes,  tossing them in a mixture of salt and oil, and then putting them on a scorching hot baking sheet.    Make sure the potatoes are parboiled rather than fully cooked when you pull them from the water, you want them slightly underdone.
I've made these potatoes at least a dozen times.   I have a bag of baby potatoes in the kitchen right now ready to be cooked.  The recipe has turned out perfectly for me almost every time. I did make a lousy batch once when I decided to use about a pound of potatoes that I had kicking around, and I didn't decrease the amount of salt called for. Boy were those potatoes salty. I actually had to toss some of them.
I recommend that you read through the recipe directions before you make this, just so you know what's involved.  The potatoes  are not hard to make, but it's nice to have an overview of the process before launching into it.
Crisp Roasted Potatoes
From Cooks Illustrated, Issue 101, November and December 2009

2 1/2 pounds Yukon Gold potatoes, rinsed and cut into 1/2 inch slides
Table salt
5 tablespoons olive oil
Ground black pepper

Adjust oven rack to the lowest position, place rimmed baking sheet on rack and heat the oven to 450 degrees.  Place the potatoes and 1 tablespoon salt in a Dutch oven.   Add cold water to cover by 1 inch.  Bring to a boil over high heat.  Reduce heat and gently simmer until exteriors of potatoes have softened but centers offer resistance when pierced with a paring knife, about 5 minutes.  Drain potatoes well and transfer to a large bowl.  Drizzle with 2 tablespoons oil and sprinkle with 1/2 teaspoon salt; using a rubber spatula, toss vigorously to combine. Drizzle with another 2 tablespoons of oil and 1/2 teaspoon of salt. Continue to toss vigorously until exteriors of potato slices are coated with a starchy paste, 1 to 2 minutes.

Working quickly, remove the baking sheet from the oven and drizzle the remaining tablespoon of oil over the surface.  Carefully transfer the potatoes to the baking sheet and spread into an even layer (skin side up if it's the end piece.)  Bake until bottoms of potatoes are golden brown and crisp, about 15 – 25 minutes, rotating the baking sheet after 10 minutes.

Remove the baking sheet from the oven and using a metal spatula and tongs, loosen the potatoes from the pan, carefully flipping each slice.   Continue to roast the potatoes until the second side is golden and crisp, 10 to 20 minutes longer, rotating pan as needed to ensure that the potatoes brown evenly.  Season with salt and pepper to taste and serve immediately.

Yield:  4 – 6 servings

Print This Recipe