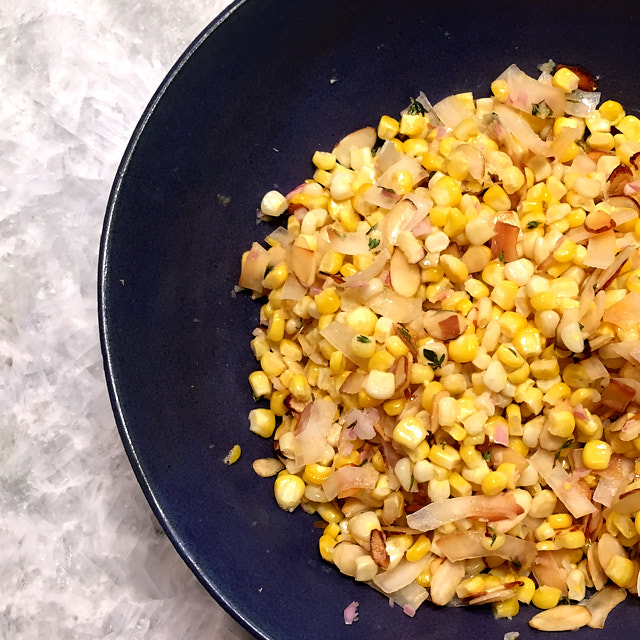 This recipe piqued my interest because it contained a lot of ingredients that I really like. I can't say that I would ever have imagined putting them together, but they surprisingly work very well together.
This is a prefect recipe for late summer when fresh corn is plentiful, at least in the Northeast. Most of the remaining ingredients can be purchased fairly inexpensively (at least by NYC standards) at Trader Joe's. Trader Joe's sells a delicious bag of what it calls coconut chips. I took these and tossed them into a dry frying pan and tossed them over medium heat until they started to turn brown.
Fresh thyme and fresh citrus juice are key here. Do not used dried thyme and don't use bottled lemon or lime juice.
Coconut Corn Salad
Recipe from https://www.101cookbooks.com/corn-salad/

3 tablespoons unsalted butter
5 ears of corn, shucked
fine grain sea salt
3 tablespoons fresh thyme leaves
1 cup big coconut flakes, well toasted (in a dry frying pan)
1 cup sliced almonds, well toasted
3 tablespoons chopped red onions
big squeeze of fresh lemon or lime juice

Melt the butter in a large skillet over medium heat. Add the corn, sprinkle with a couple pinches of salt and stir well, you want all the corn to be coated. Cook for just a minute or so, stir in half the thyme, and then transfer the corn to a large serving bowl.

Just before you're ready to serve, add most of the coconut flakes, most of the almonds, the rest of the thyme, red onions, and citrus juice. Stir well. Taste, season with more salt, to taste, and serve topped with the remaining coconut and almonds (and another splash of citrus if needed!).

Yield: 4 servings

One year ago: Cocoa Buttermilk Breakfast Biscuits with Brown Sugar Cinnamon Butter
Two years ago: Pumpkin Lentil Soup
Three years ago: New York Salt Potatoes
Four years ago: Corn-Shrimp Dumplings
Five years ago: Chocolate Coconut Milk Ice Cream
Six years ago: Breakfast Crepes
Seven years ago: Cannellini Beans with Lemon, Roasted Red Peppers, and Bacon
Eight years ago: Apple Cake
Nine years ago: Southwestern-Style Succotash Chili
Ten years ago: Incredibly Easy Apple Sauce

Print This Recipe