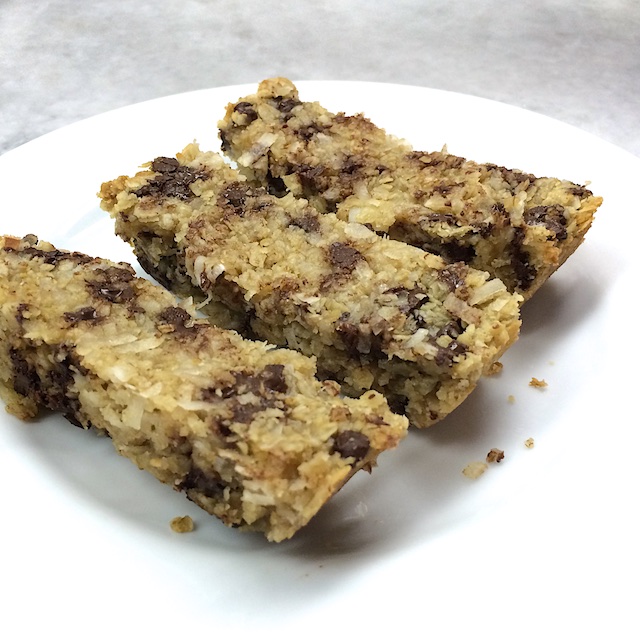 I'm always on the lookout for healthy snacks for the boys to eat. As snack foods go, these bars aren't terrible. They're still a sweet snack, but they're preservative free, unlike many of the granola bars that you buy at the supermarket. Three out of the four boys liked these. My husband and I liked them too, as did my mother. This recipe made 9 bars, and they didn't last long. You have to be a fan of coconut to like these, you can definitely taste the coconut in them. Next time I make these, I might try to make them with unsweetened coconut.
This recipe gives you a number of options. For the sweetener, you can use honey, maple syrup or agave. I used maple syrup. It also calls for oat flour. I don't ever have oat flour in my kitchen, so I took some oats, threw them in the food processor and blended away until I had a fine powder. That became my oat flour.
These granola bars are reminiscent of the Magic Cookie Bars, or 7-Layer Bars, as we sometimes called them, that I made years ago.
The boys have requested that I make these again, which I will. That's always a great endorsement for a recipe.
Coconut Chocolate Chip Magic Granola Bars
Recipe from Chocolate Covered Katie

1 cup quick oats
1/4 cup shredded coconut (I used the sweetened kind)
1/4 cup oat flour, or grind up rolled oats in a food processor, then measure out 1/4 cup
1/4 teaspoon salt
4 Tablespoons mini chocolate chips
1/4 cup vegetable oil
2 Tablespoons agave, honey or pure maple syrup
2 Tablespoons of milk, if using agave or maple syrup. If using honey, use 1/4 cup of milk.
1 teaspoon pure vanilla extract

Grease a loaf pan and preheat oven to 400 F. In a mixing bowl, combine all ingredients until evenly incorporated. Transfer the mixture to the loaf pan, spread out, and press down VERY firmly with a sheet of wax paper or a small spatula. Bake for 10 minutes. Remove them from the oven and press them down very firmly again. Wait for the bars to cool completely before trying to invert the loaf pan onto a plate. If you don't, they might crumble. When cooled completely, they should come out of the pan in one big piece. Cut into bars. Refrigerate or freeze leftovers for optimal freshness.

Yield: ~9 bars

One year ago: Creamy Curried Cauliflower Soup
Two years ago: Chocolate Buttercream Frosting
Three years ago: Chipotle Quinoa with Corn and Black Beans
Four years ago: Oatmeal Cranberry and Chocolate Chunk Cookies
Five years ago: Crisp Roasted Potatoes
Six years ago: Dinner Spanakopita
Seven years ago: Grandma Sachs' Crumb Cake

Print This Recipe