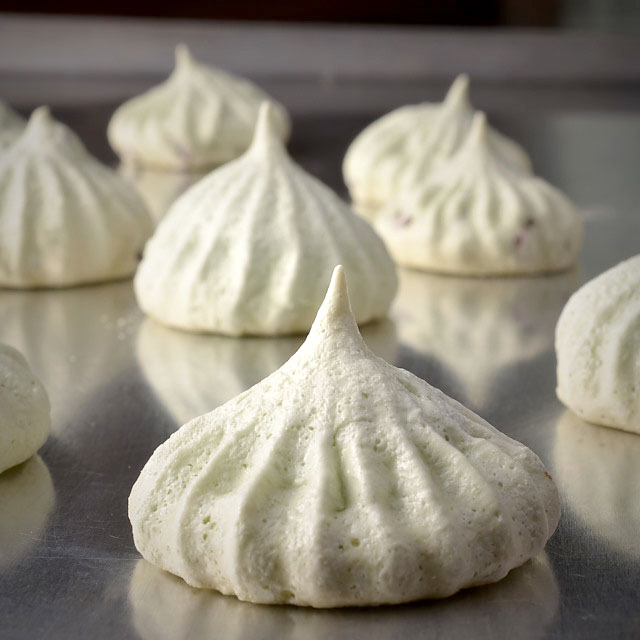 Meringues are one of my favorite cookies. I can eat them by the fistful. I love that they're light and airy and are perfect if you want just a little something to satisfy a sweet-tooth.
This is a recipe that you need to start well in advance of when you need them. It doesn't take long to mix the ingredients, but the cookies take 45 minutes to cook, then you need to leave them in the oven for another hour and a half so they can really set.
I use my stand mixer with the whisk attachment for this recipe. You can certainly use an electric hand mixer, but it takes a good 5+ minutes to get the meringues whipped until they have stiff, glossy peaks.
Use as much or as little green food coloring as you like. I only added a couple of drops, so my meringues were a very pale green color.
These really are delicious.
Mint Chocolate Chip Meringues
Recipe from Taste of Home

2 egg whites
1/8 teaspoon salt
1/8 teaspoon cream of tartar
1/8 teaspoon peppermint extract
6 to 8 drops green food coloring, optional
1/2 cup sugar
1/3 cup miniature semisweet chocolate chips

In a small bowl, beat the egg whites, salt, cream of tartar, extract and food coloring (if desired) on medium speed until soft peaks form. Gradually add sugar, 1 tablespoon at a time, beating on high until stiff glossy peaks form and sugar is dissolved, about 6 minutes. Gently fold in chocolate chips.

Drop by rounded teaspoonfuls or pipe 2 in. apart onto parchment paper-lined baking sheets. Bake at 250° for 40-45 minutes or until firm to the touch. Turn oven off; leave meringues in oven for 1-1/2 hours. Remove to wire racks. Store in an airtight container.

Yield: ~32 cookies

Two years ago: Chocolate Brownie Cookies
Three years ago: Pecan Sandies
Four years ago: Potato Torta
Five years ago: Ranch Potato Salad
Six years ago: Chicken with Tabbouleh

Print This Recipe