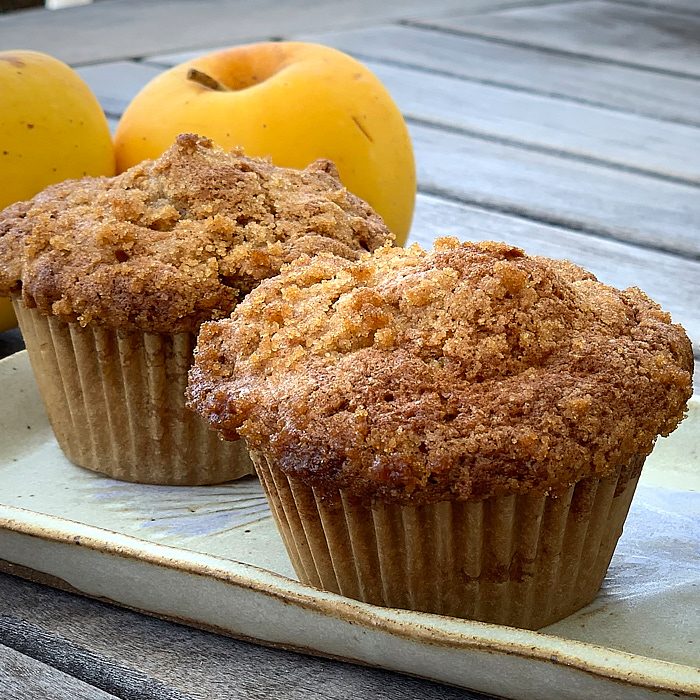 These muffins are incredibly moist and flavorful and they were a big hit in our house. Your kitchen will smell great while they're cooking.

Some notes about the recipe: I diced my apples because my boys don't like to find big chunks of fruit in their muffins. You'll find that the batter is quite thick, almost like cookie dough. Don't be alarmed, this is normal. If you don't eat all of the muffins on the first day, they can be reheated in the microwave for 10 seconds. They reheat well.

This recipe is a great way to use up any extra apples you have kicking around. Keep it in mind for apple-picking season.
Apple Strudel Muffins
Recipe adapted slightly from Allrecipes.com

2 cups all-purpose flour
1 teaspoon baking powder
1/2 teaspoon baking soda
1/2 teaspoon salt
1 teaspoon ground cinnamon
1/4 teaspoon ground nutmeg
1/2 cup butter
1/2 cup sugar
1/2 cup packed brown sugar
2 eggs
2 teaspoons vanilla extract
1 generous cup peeled and chopped apples
1 generous cup peeled and shredded apples

For Streusel Topping:
1/3 cup packed brown sugar
1 Tablespoon flour
1/8 teaspoon ground cinnamon
1 Tablespoon butter


Preheat oven to 375 degrees F (190 degrees C). Grease a 12 cup muffin pan or line with paper liners.

In a medium bowl, mix flour, baking powder, baking soda, salt, cinnamon and nutmeb.

In a large bowl, cream the butter and sugars. Add the eggs and beat until smooth. Mix in vanilla. Stir in apples, and gradually blend in the flour mixture. The batter will be thick – almost like cookie dough. Spoon the mixture into the prepared muffin pan.

Make the streusel topping. In a small bowl, mix brown sugar, flour and cinnamon. Cut in butter either with your fingers or with a pastry blender until mixture is like coarse crumbs. Sprinkle over tops of the muffin batter.

Bake for approximately 18 minutes in the preheated oven, or until a toothpick inserted in the center of a muffin comes out clean. Allow to sit for 5 minutes before removing muffins from pan. Cool on a wire rack.

Yield: 12 muffins



One year ago:  Instant Pot Tomato Soup
Two years ago:  Gingerbread Biscotti
Three years ago:  Cake Batter Truffles
Four years ago:  Stuffed Cookie Dough Bites
Five years ago:  Graham Cracker Bites
Six years ago:  Sugared Pretzel Cookies
Seven years ago:  Homemade Wheat Thins
Eight years ago:  Orange-Scented Almond and Olive Oil Muffins
Nine years ago:  Alsatian Pizza
Ten years ago:  Honey Wheat Cookies
Eleven years ago:  Sugar Cookies with Royal Icing
Twelve years ago: Chewy Sugar Cookies **One of my all-time favorite cookie recipes!

[print_link}