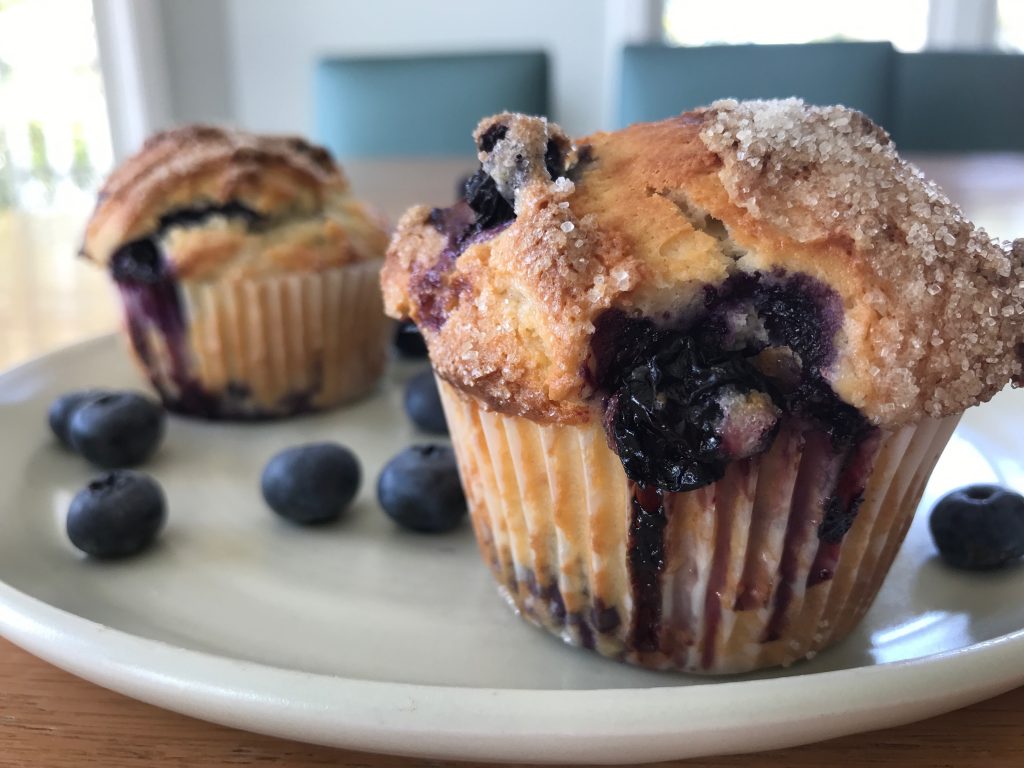 I've made lots of blueberry muffins over the years, but this is my current go-to recipe. I found it this summer when blueberries were plentiful, made it least a half dozen times over the course of a month or so, and keep using it. I have a batch frozen in the freezer right now so I can have muffins on-demand. They'll take a little longer to cook, but they'll be faster to the table than if I had to make them from scratch.

These are best on the day that you make them, but if they don't all disappear in a day, 15 seconds in the microwave the next day will do wonders for them.

The photo is courtesy of my sister Gail.

My Go-To Blueberry Muffins
Recipe modified slightly from Smitten Kitchen

5 tablespoons (70 grams) unsalted butter, cold is fine
1/2 cup sugar
Finely grated zest from a lemon
3/4 cup plain unsweetened yogurt or sour cream
1 large egg
1 1/2 teaspoons baking powder
1/4 teaspoon baking soda
1/4 teaspoon fine sea or table salt
1 1/2 cups all-purpose flour
1 1/4 to 1 1/2 cups blueberries, fresh or frozen
3 tablespoons turbinado (sugar in the raw) sugar

Heat oven to 375°F. Line a muffin tin with 10 paper liners or spray each cup with a nonstick spray. Melt butter in the bottom of a large bowl and whisk in sugar, zest, yogurt and egg until smooth. Whisk in baking powder, baking soda and salt until fully combined, then lightly fold in flour and berries. Batter will be very thick, like a cookie dough. Divide between prepared muffin cups and sprinkle each with 1 teaspoon turbinado sugar, which will seem like a lot, but it's the right amount. Bake for 25 to 30 minutes, until tops are golden and a tester inserted into the center of muffins comes out clean (except for the gooey blueberries). Let cool in pan for 10 minutes then the rest of the way on a rack.

Yield: 10 muffins


One year ago: Plum Torte
Two years ago: Veggie Nuggets
Three years ago: Pumpkin Lentil Soup
Four years ago: Giant Bubbles
Five years ago: Corn-Shrimp Dumplings
Six years ago: Chocolate Coconut Milk Ice Cream
Seven years ago: Breakfast Crepes
Eight years ago: Cannellini Beans with Lemon, Roasted Red Peppers, and Bacon
Nine years ago: Apple Cake
Ten years ago: Southwestern-Style Succotash Chili
Eleven years ago: Incredibly Easy Apple Sauce


Print This Recipe