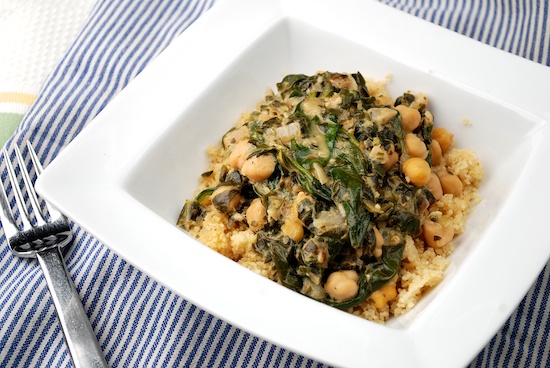 We try to have meatless Mondays in our home and last Monday was no exception. It makes my son the vegetarian very happy. He never likes to eat things like this, he's just happy that we're not hurting any animals.
I am always drawn to recipes that stew vegetables in coconut milk. Yum! I made a couple of substitutions when I made this. I didn't want to run to the store, so I used what I had on hand. I used Trader Joe's coconut cream instead of coconut milk. Basically the same thing, the cream is just thicker. I didn't have any sun dried tomatoes on hand, but I did have a jar of sun dried tomato pesto, so I used a tablespoon of that.
I served this over cous. It was both hearty and delicious.us
For me, this is comfort food at its best. My husband loved this dish as much as I did. The boys didn't want to go near it. I know I've said this before, but it's really their loss.

Braised Coconut Spinach and Chickpeas with Lemon

2 teaspoons olive oil
1 small yellow onion
4 large cloves garlic, peeled and minced
1 tablespoon grated ginger, from a 3-inch piece
1/2 cup sun-dried tomatoes, chopped
1 large lemon, zested and juiced (about 2 tablespoons juice)
Dash of red pepper flakes
15-ounce can chickpeas, drained
1 pound baby spinach
14-ounce can coconut milk
1 teaspoon salt, or to taste
1 teaspoon ground ginger

Heat the oil in a large, deep Dutch oven or heavy pot over medium-high heat. Add the onion and cook for about 5 minutes, or until the onion is beginning to brown. Add the garlic, ginger, sun-dried tomatoes, lemon zest and red pepper. Cook for 3 minutes, stirring frequently.

Add the chickpeas and cook over high heat for a few minutes or until the chickpeas are beginning to turn golden and they are coated with the onion and garlic mixture.

Toss in the spinach, one handful at a time. This will take about 5 minutes; stir in a handful or two and wait for it to wilt down and make room in the pot before adding the next handful. When all the spinach has been stirred in, pour in the coconut milk and stir in the salt, ground ginger, and lemon juice. Bring to a simmer then turn down the heat and cook for 10 minutes or until the chickpeas are warm through. Taste and add more salt and lemon juice, if necessary.

Serve hot over cous cous, rice or quinoa.

Yield: 4 servings

One year ago: Peanut Butter Cup Blondies
Two years ago: Caramels
Three years ago: Yukatan Pork Tenderloin
Four years ago: Carole's Country Style Spare Ribs
Five years ago:   Buttermilk Bran Muffins

Print This Recipe