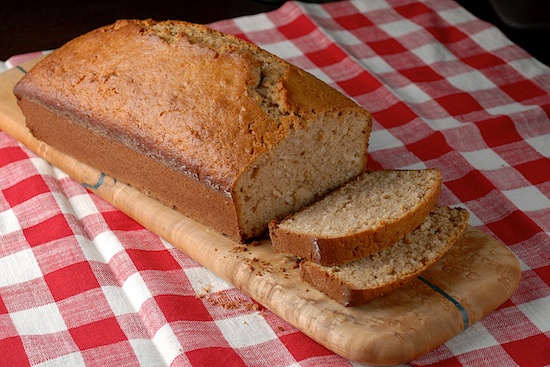 This is a really interesting coconut bread that looks like it might be similar to a banana bread, but it isn't. It has a much coarser crumb, and it's not as sweet as a typical banana bread. I like this bread best toasted or warm with butter. It would be nice with a little confectioner's sugar on it as well. I can see it being served as part of a bread basket at a nice restaurant. As a matter of fact, the recipe comes from a chef named Bill Granger, who owns a restaurant called Bill's Cafe, outside Sydney.
I didn't have any superfine sugar, so I used regular granulated sugar and the bread was still delicious. If you would like to make your own superfine sugar, you can take a little more granulated sugar than you need in your recipe and put it into a food processor. If you process the sugar for a minute or two (depending upon how much sugar you're processing), you'll end up with superfine sugar. I recommend putting a towel around your food processor during the process because sugar dust will be created and some may try escape onto your kitchen counter.
This would be a nice addition to a brunch table, with butter and marmalade or jam.
Coconut Bread
Recipe, as seen on Smitten Kitchen and The New York Times

2 large eggs
1 1/4 cups whole milk
1 teaspoon vanilla extract
2 1/2 cups all-purpose flour
1/4 teaspoon kosher salt
2 teaspoons baking powder
2 teaspoons ground cinnamon
1 cup superfine sugar
5 ounces sweetened flaked coconut (about 1 1/2 cups)
6 tablespoons unsalted butter, melted
Vegetable oil or nonstick cooking spray for baking pan

Heat oven to 350 degrees. In a small bowl, whisk together eggs, milk and vanilla.

In a medium bowl, sift together 2 1/2 cups flour, baking powder and cinnamon. Add sugar and coconut, and stir to mix. Make a well in the center, and pour in egg mixture. Gradually mix with dry ingredients, until just combined. Add melted butter, and stir until smooth. Do not overmix.

Butter and flour (or spray with oil) a 9 x 5 inch loaf pan. Pour batter into pan. Bake until a toothpick inserted into center comes out clean, 1 to 1 1/4 hours. Cool in pan 5 minutes, remove bread from pan, and finish cooling on a rack.

To serve, cut into 8 to 10 thick slices. If desired, toast lightly, spread with butter, and dust lightly with confectioners' sugar.

Yield: One loaf, 8 to 10 servings

One year ago: Salted Chocolate Caramel Cookie Bars
Two years ago: Spanakopita Lasagna
Three years ago: Chocolate Chip Waffles
Four years ago: Dinner Spanakopita
Five years ago: Cheddar Corn Chowder

Print This Recipe