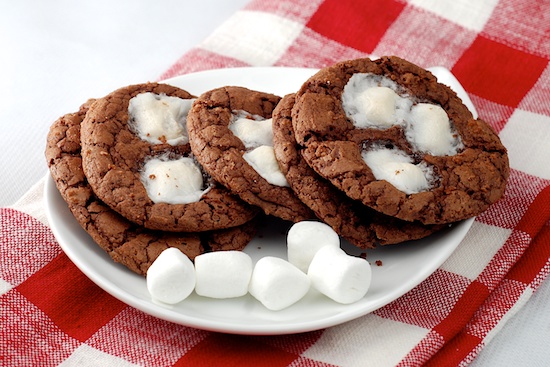 Made these cookies recently and the boys loved them. For days, they took a cookie to school with their lunch. They received a double thumbs-up from all four boys and from many of their friends also.
Truth be told, I thought the cookies were good, not excellent. Not terrible, but not the best things I've ever eaten. I have many other cookie recipes that I like more. I'm posting the recipe so I have it when the boys ask for the cookies again, and no doubt they will. They liked them that much.
If you make these, please note that the dough has to chill for at least an hour before you bake them.  It's very soft when you first make it.

Mini Hot Cocoa Cookies
Recipe from Two Peas & Their Pod

1/2 cup unsalted butter
2 cups semi-sweet chocolate chips
1 1/2 cups Gold Medal all-purpose flour
1/4 cup hot cocoa mix
1 1/2 teaspoons baking powder
1/2 teaspoon salt
1 cup brown sugar
3 large eggs
2 teaspoons vanilla extract
48 mini marshmallows
Mallow Bits (2-3 per cookie)

In a small saucepan, melt butter and chocolate chips over low heat. Stir until combined and smooth. Set aside to cool for about 10 minutes.

In a medium bowl, whisk together flour, hot cocoa, baking powder, and salt. Set aside.

In the bowl of a stand mixer, beat the brown sugar and eggs together. Add vanilla extract. Slowly add in dry ingredients. Mix in the melted chocolate. Refrigerate cookie dough for at least 1 hour or overnight.

Preheat oven to 325 degrees F. Line a large baking sheet with a Silpat baking mat or parchment paper. Using about a teaspoon of dough, form cookie dough balls and place on prepared baking sheet. Bake for 8 minutes, or until cookie tops begin to crack. Remove cookies from oven and place 3 mini marshmallows in the center of each cookie. Bake cookies for an additional 4 minutes, or until marshmallows are soft and cookies are set around the edges, but still soft. Let the cookies cool on the baking sheet for 2 minutes. Transfer cookies to a wire cooling rack and cool completely.

Yield: ~48 small cookies

One year ago: Granola
Two years ago: Quick Chickpea Curry
Three years ago: Cauliflower and Caramelized Onion Tart
Four years ago: M&Ms Cookies
Five years ago: Chickpea Salad with Lemon and Parmesan

Print This Recipe