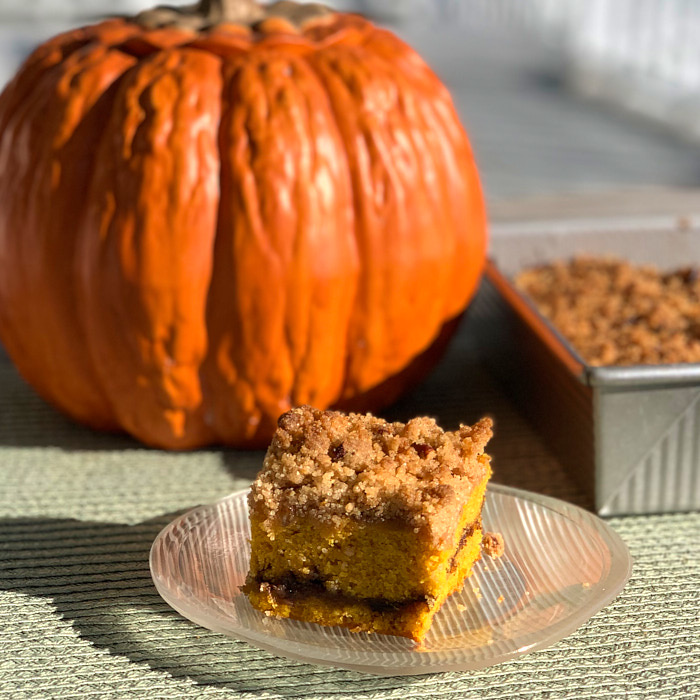 It's fall here in NY, and as the weather starts to gets nippy, I'm inspired to to bake with seasonal spices like cinnamon and nutmeg. This cake is a sweet, seasonal breakfast treat that everyone in our house enjoyed. We are currently a group of six. Two of our boys are away at school, having a most interesting freshman year. Two of our boys are studying at home (one is a freshman in college whose school is virtual this semester) and the other is a senior in high school, also attending a school that is remote at the moment. My parents are also with us. They have been quarantining with us recently which is lots of fun for all of us.

This coffee cake is on the sweet side, so it is perfect as a dessert. You can also serve it for breakfast if you like sweet things in the morning. The next time I make it, I will reduce the sugar in the cake to 3/4 cup, to see how that works. I'll keep you posted.

I'll definitely make this again.


Pumpkin Streusel Coffee Cake
Recipe from King Arthur Flour

Topping:
2/3 cup granulated sugar
pinch of salt
2/3 cup all-purpose flour
1 teaspoon cinnamon
1/4 cup chopped pecans (optional)
4 tablespoons butter, melted

Filling:
1/3 cup brown sugar, packed
1 teaspoon cinnamon
1 teaspoon unsweetened cocoa powder (optional)

Cake:
1/3 cup vegetable oil
2 large eggs, at room temperature
1 cup granulated sugar
1 cup pumpkin purée (canned pumpkin)
1 teaspoon pumpkin pie spice (or 1/2 teaspoon cinnamon plus 1/4 teaspoon each ground ginger and nutmeg)
1 teaspoon salt
1 teaspoon baking powder
1 1/2 cups all-purpose flour

Preheat the oven to 350°F. Lightly grease an 8″ square pan or 9″ round pan.

To make the topping: Whisk together the sugar, salt, flour, spice, and nuts. Add the melted butter, stirring just until well combined. Set the topping aside.

To make the filling: Mix together the brown sugar, spice, and cocoa powder. Note that the cocoa powder is used for color, not flavor; leave it out if you like. Set it aside.

To make the cake: Beat together the oil, eggs, sugar, pumpkin, spices, salt, and baking powder until smooth. Add the flour, stirring just until smooth.

Pour/spread half the batter into the prepared pan, spreading it all the way to the edges. If you have a scale, half the batter is about 13 1/2 ounces.

Sprinkle the filling evenly atop the batter.

Spread the remaining batter atop the filling. Use a table knife to gently swirl the filling into the batter, as though you were making a marble cake. Don't combine filling and batter thoroughly; just swirl the filling through the batter.

Sprinkle the topping over the batter in the pan.

Bake the cake until it's light brown on top, and a toothpick or cake tester inserted into the center comes out clean, about 40 to 45 minutes.

Remove the cake from the oven and allow it to cool for 20 minutes before cutting and serving. Serve the cake right from the pan.

Yield: One 8″ square cake or a 9″ round cake



One year ago:  My Go-To Blueberry Muffin Recipe
Two years ago:  Plum Torte
Three years ago:  Veggie Nuggets
Four years ago:  Pumpkin Lentil Soup
Five years ago:  Toasted Israeli Couscous Salad with Mint, Cucumber, and Feta
Six years ago:  Corn-Shrimp Dumplings
Seven years ago:  Chocolate Coconut Milk Ice Cream
Eight years ago:  Breakfast Crepes
Nine years ago:  Cannellini Beans with Lemon, Roasted Red Peppers, and Bacon
Ten years ago:  Apple Cake
Eleven years ago:  Southwestern-Style Succotash Chili
Twelve years ago: Incredibly Easy Apple Sauce

Print This Recipe