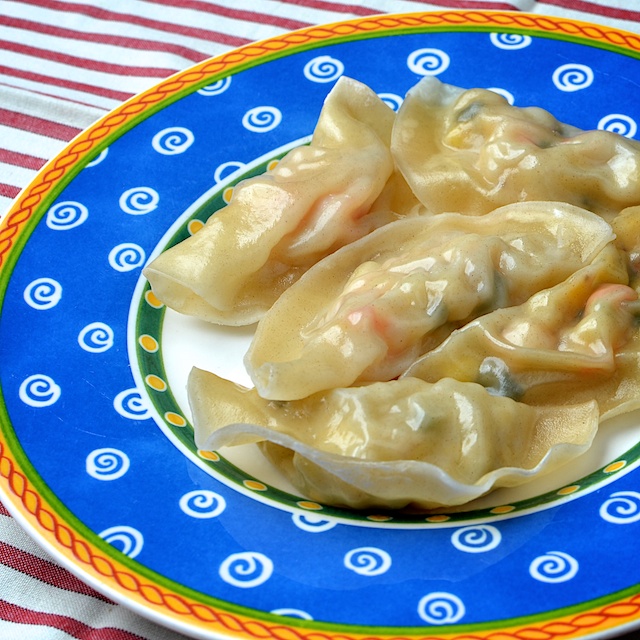 I'm a little late posting these. I made them in September, at the tail end of the corn season here in the Northeast. If you're inspired to make them when fresh corn isn't in season, you can certainly use frozen corn in its place.
I tried this recipe because on the Food and Wine website, it was advertised as being "a cinch to make". I wouldn't say the dumplings were hard to make, but they were quite time-consuming. They were delicious, but labor intensive. In my book, that's not a "cinch to make".
I found gyoza wrappers at my local Fairway market. Not every supermarket sells them, but many specialty markets do. My gyoza wrappers must have been smaller than those used by the recipe author. She made 20 dumplings. I was able to make many more. My dumplings only took a teaspoon of filling. That's probably why it took me so much time to make them. Note to self: buy bigger gyoza wrappers next time.
These dumplings freeze beautifully. If you're freezing them, put them on a cookie sheet so they're not touching and put them in the freezer. Once they're frozen, you can put them in individual containers. You don't want to freeze the dumplings in a pile, or they'll freeze stuck together and be very difficult to separate.
I served these with a sweet chili sauce and they were really great. I tried dipping them in soy sauce as well, but the chili sauce was my favorite. Trader Joe's sells a great sweet chili sauce.
Corn-Shrimp Dumplings
Recipe from Food and Wine

1 ear of corn, shucked, kernels cut off the cob
1/2 pound shelled and deveined shrimp, chopped
2 scallions, minced
2 teaspoons minced garlic
2 teaspoons minced peeled fresh ginger
Kosher salt
20 small, round gyoza wrappers*
Soy sauce, for dipping

In a medium bowl, mix the corn kernels with the shrimp, scallions, garlic and ginger and season with salt. Brush the edges of the wrappers with water and spoon 1 tablespoon of the filling in the center of each. Fold one side of the wrapper over to form a half moon, pressing the edges together to seal. In a steamer basket, steam the dumplings over simmering water until cooked through, 3 to 4 minutes.

* the number of wrappers needed will depend upon their size. I needed many more than 20.

Yield:  20 or more dumplings

One year ago: Chocolate Coconut Milk Ice Cream
Two years ago: Homemade Halloween Oreos
Three years ago: Creamy Curried Celery Root Soup
Four years ago: Mini Nutella Cakes
Five years ago: French Toast
Six years ago: Quick Oat Bran and Banana Muffins

Print This Recipe