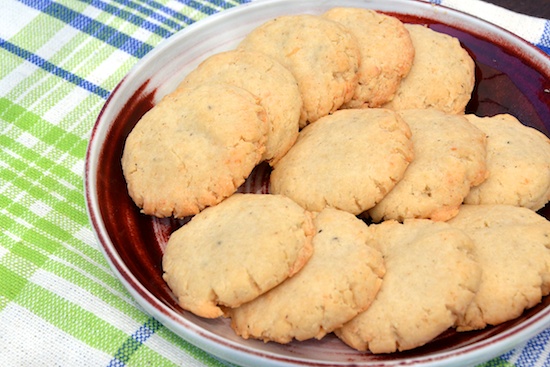 These crackers are dense, cheesy and delicious. They're a perfect addition to a cheese plate or a bread basket. I put them out as a snack the other day, and we and our guests polished them off in no time. These would be perfect served at a cocktail party.
I didn't have unsalted butter, so I left the salt out of the recipe. Glad I did. I happened to have Romano cheese on hand. If I didn't have it, I would have happily used Parmesan. I'm sure they would have been delicious also.
I found that the dough was quite crumbly. I used a small cookie scoop to form the crackers, and I found myself pressing the dough into the cookie scoop to make sure that it would hold together. Then, once the dough was on the cookie sheet, I had to press it down with my fingers or with the palm of my hand. Please remember that these crackers won't spread, so the shape that goes into the oven will come out of the oven unchanged other than perhaps being browned at the edges.
Pecorino Crackers
Recipe from Giada's Kitchen: New Italian Favorites, by Giada DeLaurentiis

1 1/4 cups grated Pecorino Romano cheese
1/2 teaspoon salt
1/4 teaspoon freshly ground black pepper
1/8 teaspoon cayenne pepper
1 stick unsalted butter, softened
1 cup all-purpose flour

Preheat the oven to 350 degrees F.

Combine the cheese, salt, pepper, and cayenne in a medium bowl and stir to combine. Add the butter. Using a hand mixer, beat the cheese mixture and butter until combined. Add the flour 1/4 cup at a time, mixing only until incorporated and the mixture holds together.

Place tablespoon-sized balls of the dough on 1 or 2 parchment paper-lined baking sheets, pressing the dough down with your fingertips so it flattens. These crackers will not spread at all in the oven. Bake until just beginning to brown at the edges, about 15 minutes. Let cool on the baking sheet for a few minutes. Transfer to a serving plate.

Yield: 24 crackers

One year ago: Roasted Eggplant Spread
Two years ago: Lemon Scented Quinoa
Three years ago: Mint Lemon Limeade

Print This Recipe