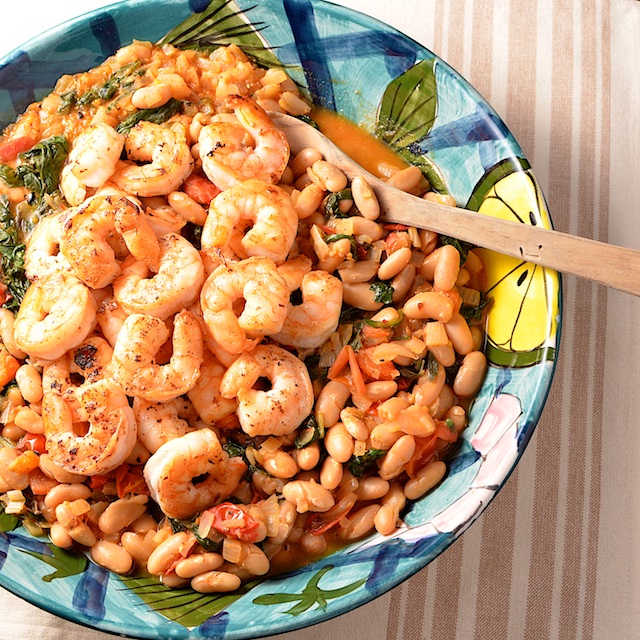 The flavor in this dish was unexpected and wonderful. The lemon zest and juice brought this dish to life. I loved it so much I had two big servings. I also had it the next day for lunch. I love a meal that makes for good leftovers.
I love this dish for a number of reasons: it's very healthy and it's easy enough to throw together for a weeknight meal. I almost always have the bulk of the ingredients on hand. I always have a bag of frozen shrimp from Costco in my freezer. I buy the biggest ones I can find that are peeled and deveined. They come with the tails on, and sometimes I take them off before cooking, and sometimes I leave them on. This time, I took them off. I always have chicken stock, garlic, onions and lemons on hand too, and based on the number of recipes that I make with beans, I typically have a shelf full of them in one of my kitchen cabinets.
I served this dish as is, but it can also be served over rice, which will nicely sop up some of the sauce. When making this, the amounts of the ingredients are not set in stone. If you really like tomatoes, add another one. Add some more spinach if you like greens. The recipe is very forgiving and can be modified to suit your taste. I made it exactly as specified, and don't plan to change a thing next time I make it.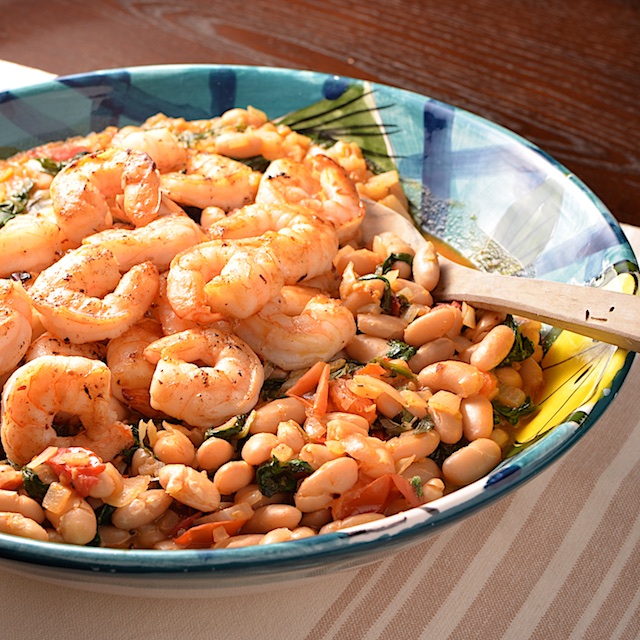 Shrimp with White Beans, Spinach and Tomatoes
Recipe from The Kitchn

Olive oil
1 small yellow onion, diced
2 to 3 cloves garlic, minced
1 medium ripe tomato or a handful of cherry tomatoes, diced (~3/4 cup diced)
A few handfuls of washed baby spinach
8 fresh basil leaves, sliced into a chiffonade
1 teaspoon lemon zest
Juice from 1/2 lemon
2 (15.5 ounce) cans Great Northern beans or cannellini beans, drained and rinsed
1/4 cup chicken stock
12 large shrimp, peeled and deveined (thawed if frozen)

Warm a teaspoon or two of olive oil in a large skillet over medium-high heat. Add the onions and sauté until they begin to soften, 5 to 7 minutes. Add the garlic, 1/2 teaspoon of salt, pepper, and a pinch of red pepper flakes (depending on how spicy you like your food), and cook until fragrant, about 30 seconds.

Stir the diced tomato into the onions and cook 2 to 3 minutes, until some of the tomato liquid has evaporated and the tomatoes are beginning to break down. Add the spinach and stir until wilted. Add the beans and chicken stock, and simmer for a few minutes until most of the liquid has evaporated and the beans are warmed through. Stir in the basil, lemon zest, and juice. Taste and adjust the seasonings as desired. Turn the heat down to low and partially cover to keep warm.

Wash the shrimp, pat them very dry, and season both sides with salt and pepper. Set a second pan over high heat and coat the bottom with olive oil. When the oil is hot enough that a flick of water evaporates immediately, begin cooking the shrimp in batches. Cook the shrimp, 1 to 2 minutes on each side, until they are pink and opaque all the way through. Transfer to a plate.

To serve, spoon the spinach and bean mixture into bowls and top with a few of the shrimp.

Yield: 3 – 4 servings

Two years ago: Quinoa Mac and Cheese
Four years ago: Boston Cream Pie
Seven years ago: Chicken Stew with Biscuits

Print This Recipe