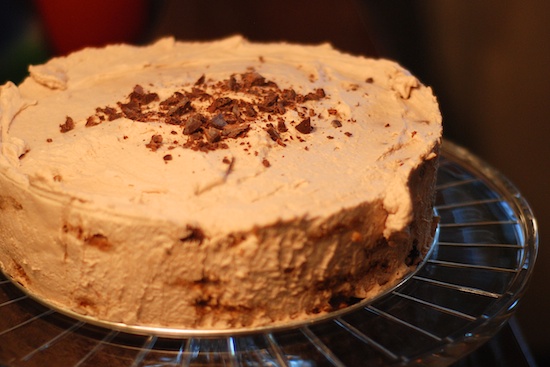 I have had my eye on this recipe ever since I received the Barefoot Contessa How Easy is That? cookbook for Christmas over a year ago.  Recently one of my aunts told me how wonderful the recipe was, so I knew I had to make it.   I'm in two book clubs, one is co-ed and the other is all women.   I just hosted the meeting for the women's book club and I made this cake to serve.   I made it the night before because it needs to sit overnight.    Several women thought I bought it at a fancy bakery!   Everyone that tried it loved it.    The women had small slices and we didn't even finish half of the cake.   If I had served it to my co-ed book club, it would have disappeared in a matter of minutes.
All of my boys gave this cake a thumbs-up and so did my husband.   He actually gave it a double thumbs-up.
This cake comes together in no time and it's perfect for the summer because no baking is involved.   I tweaked the recipe a little bit because I didn't have Kahlua on hand.   I substituted Baileys Irish Cream which I happened to have in my refrigerator, and since Bailey's isn't a coffee liqueur, I decided to omit the espresso powder.    My resulting cake was delicious.   I'm sure it's delicious with the Kahlua and espresso powder, so I might try it that way next time for a change.    This cake is incredibly rich, so a thin piece will satisfy the biggest sweet tooth.
I followed the directions in the recipe and used Tate's chocolate chip cookies which are thin and crispy.  They were the perfect consistency for this cake.   They became soft in the cake (but not soggy) and when you took a bite of the cake it was nice to bite into the hard chocolate chips.   My cake only had 4 layers and not 5..This cake is definitely a winner.
Mocha Chocolate Ice Box Cake
Recipe from Barefoot Contessa How Easy is That? by Ina Garten

2 cups cold heavy cream
12 ounces Italian mascarpone cheese
1/2 cup sugar
1/4 cup coffee liqueur, such as Kahlua (or Bailey's Irish Cream)
2 tablespoons unsweetened cocoa powder,
1 teaspoon instant espresso powder
1 teaspoon pure vanilla extract
3 (8-ounce) packages chocolate chip cookies, such as Tate's Bake Shop
Shaved semisweet chocolate, for garnish

In the bowl of a stand mixer fitted with the whisk attachment, combine the heavy cream, mascarpone, sugar, coffee liqueur, cocoa powder, espresso powder (if using), and vanilla. Mix on low speed to combine and then slowly raise the speed, until it forms firm peaks.

To assemble the cake, arrange chocolate chip cookies flat in an 8-inch (or 9-inch) springform pan, covering the bottom as much as possible. (I break some cookies to fill in the spaces.) Spread a fifth of the mocha whipped cream evenly over the cookies. Place another layer of cookies on top, lying flat and touching, followed by another fifth of the cream. Continue layering cookies and cream until there are 5 layers of each, ending with a layer of cream. Smooth the top, cover with plastic wrap, and refrigerate overnight.

Run a small sharp knife around the outside of the cake and remove the sides of the pan. Sprinkle the top with the chocolate, cut in wedges, and serve cold.

Yield: 8 – 10 servings

One year ago: Lemon-Scented Quinoa
Two years ago: Mint Lemon-Limeaid

Print This Recipe