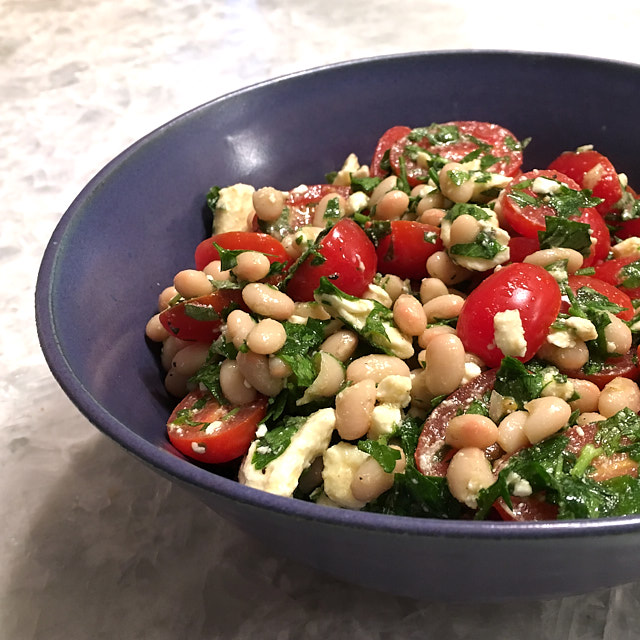 It's summer here in the Northeast and there's nothing better than a hearty salad that doesn't involve any cooking, especially one that calls for tomatoes, which are at their peak right now. If you're a tomato and feta cheese fan, definitely try this. It comes together in no time. The ingredients are simple, but the fresh parsley and oregano give it a punch of flavor. If you don't have fresh herbs on hand, skip this recipe until you do.
I know that this salad looks a lot like the one I posted yesterday, but they are completely different. They taste nothing alike. Yesterday's salad is slightly sweet because of the pineapple. This salad is not sweet at all. This salad is great as a leftover too.
Because it's loaded with beans, add a slice of crusty bread and you have a nice, light summer dinner.
Did my boys try this? The vegetarian did. Didn't like it. My husband and I loved it. The rest would have nothing to do with it. Some things never change.
Tomato and Feta White Bean Salad
Recipe from The Kitchn

2 Tablespoons olive oil
1 Tablespoon red wine vinegar
1 teaspoon minced shallot
Kosher salt
Freshly ground black pepper
1 (15-ounce) can white beans, drained and rinsed
1 pint cherry or grape tomatoes (about 2 cups), halved
4 ounces feta cheese, crumbled (about 1 cup)
1/2 cup coarsely chopped fresh parsley leaves
2 tablespoons chopped fresh oregano leaves

Whisk the oil, vinegar, shallot, a big pinch of salt, and a few generous grinds of black pepper together in a large bowl. Add the beans, tomatoes, feta, parsley, and oregano and toss to combine. Taste and add more salt and pepper as needed.

Yield: ~ 5 cups of salad to serve four as a side dish

One year ago: Sprinkle Cookies
Two years ago: Shortbread
Three years ago: Nutella Cheesecake Chocolate Cookie Cups
Four years ago: Shrimp and Grits
Five years ago: Marion Cunningham's Raised Waffles
Six years ago: Marion Cunningham's Raised Waffles
Seven years ago: Lemony Parsley-and-Egg Soup
Eight years ago: Zucchini Pancakes
Nine years ago: Baked Apple "Donuts"
Ten years ago: Double Chocolate Cookies

Print This Recipe