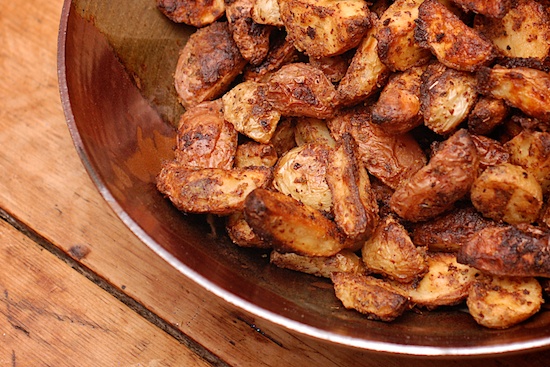 I make a lot of roasted potatoes in the summer.  Don't ask me why.  I know that I shouldn't turn on the oven when it's 90 degrees outside, but roasted potatoes are just so good and so easy to make, and during the summer I spend a fair amount of time at the barbeque, so I don't really notice the heat in the kitchen.   Some of my friends do, but I don't.   Maybe I'm just used to it.
My typical roasted potatoes use olive oil, salt, garlic and sometimes some herbs.  I'm always up for a change and I'm so glad that I tried these.   I thought they were really delicious.  Crunchy on the outside and creamy on the inside with the mustard imparting a nice flavor.
These reheat very nicely in the oven the next day.  Don't microwave them or they'll lose their crunch and become too soft/soggy.
Ok, so we're continuing with our 'you must try something new at dinner' campaign and we're trying to do it without any stress.   Tonight wasn't so bad.   I bought some seaweed from Trader Joe's and put that out.   All four of them tried it.  They actually asked to try it.   No one liked it, but there were no theatrics, so in my mind it was a success.   How long before they'll actually eat a side of vegetables?
Mustard-Roasted Potatoes
Recipe from Bon Appétit, December 2007

Nonstick vegetable oil spray
1/2 cup whole grain Dijon mustard
2 tablespoons extra-virgin olive oil
2 tablespoons (1/4 stick) butter, melted
2 tablespoons fresh lemon juice
3 garlic cloves, minced
1 tablespoon dried oregano
1 teaspoon finely grated lemon peel
1 teaspoon coarse kosher salt3 pounds 1- to 1 1/2-inch-diameter mixed unpeeled red-skinned and white-skinned potatoes, cut into 3/4-inch-wide wedges

Position one rack in top third of the oven and another rack in bottom third of the oven and preheat to 425°F.  Spray 2 large, rimmed baking sheets with nonstick spray (I like Trader Joe's Canola Oil spray). Whisk mustard, olive oil, butter, lemon juice, garlic, oregano, lemon peel, and salt in large bowl to blend. Add potatoes; sprinkle generously with freshly ground black pepper and toss to coat. Divide potatoes between prepared baking sheets, leaving any excess mustard mixture behind in bowl. Spread potatoes in single layer. Roast potatoes 20 minutes. Reverse baking sheets and roast until potatoes are crusty outside and tender inside, turning occasionally, about 25 minutes longer. Transfer potatoes to serving bowl.

DO AHEAD: Can be made 2 hours ahead. Let stand on baking sheets at room temperature. Rewarm potatoes in 425°F oven 10 minutes.

Yield:  ~10 servings


One year ago: French Gougères
Two years ago: Lemon Mascarpone Mousse
Three years ago: Chicken Salad with Apple and Basil

Print This Recipe