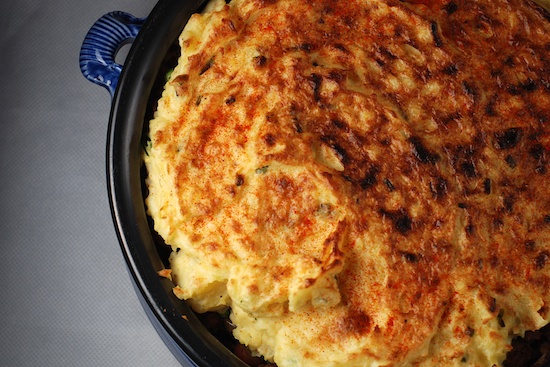 I haven't posted in a while because we got busy with Halloween. Halloween is my husband's favorite holiday and he created an excellent haunted house in our apartment that we showcased at a Halloween party that we threw for the boys. It was lots of fun but took a lot of preparation. The boys and their friends loved it!
I love a good shepherd's pie and I also love ground turkey, so this recipe looked like a perfect combination of both. It was really easy to make – I made it for a weeknight dinner. The thing I loved about it the most was the flavor of the turkey mixture. I have never used poultry seasoning before and the flavor was great. The taste was reminiscent of a Thanksgiving stuffing, but better.
My husband and I both enjoyed this for a couple of days. The boys? No way. Their loss.
Ground Turkey Shepherd's Pie
Recipe from RachelRay.com

4 large Idaho or Russet potatoes, peeled and cut into chunks (2 1/2-3 pounds)
Salt
2 tablespoons extra virgin olive oil
2 slices bacon, chopped or snipped with kitchen scissors
2 pounds ground turkey
2 onions, chopped
2 carrots, peeled and chopped
Pepper
2 tablespoons Worcestershire sauce
2 teaspoons poultry seasoning
1 cup frozen peas
2/3 cup half-and-half or cream, divided
1 egg, beaten
2 tablespoons butter
2 tablespoons chives, snipped or chopped
1 teaspoon paprika

Place the potatoes in a small, deep pot. Cover with water, set the lid in place and set the pot on stove. Turn the heat on high and bring potatoes to a boil. Salt the water and cook potatoes until tender, 12-15 minutes.

While the potatoes cook, place a deep skillet on the stovetop over medium-high to high heat and add 2 tablespoons of olive oil. When the oil is hot, add the bacon and cook until crisp, 5 minutes, then add the turkey and break it up with a wooden spoon. Season the turkey with salt and pepper and brown it for 5 minutes, then remove it from the pan. Add the onions and carrots to the pan. Season with salt and pepper and let them cook in the center of the pan, where it is hottest, for 5 minutes, then return the turkey and bacon to the pan and stir everything together.

Add the Worcestershire sauce and poultry seasoning to the turkey, then turn the heat down to medium and cover the pan with a foil tent to keep in some of the moisture. Cook another 6-7 minutes.

Pre-heat the broiler to high.

Drain the potatoes and place them back in the warm pot. Use a pot holder to hang on to the pot while you smash them up. Add 1/3 cup half-and-half, salt, pepper, egg, butter and chives and smash away with a masher until potatoes are almost smooth, but are still a little lumpy.

Remove the foil from the turkey pan and stir in the peas and the remaining 1/3 cup half-and-half. Scrape up any good bits from the bottom of the pan and turn off the heat.

Scrape the turkey into a small casserole dish, top with a thick layer of smashed potatoes, then transfer to the broiler. Cook until top is brown, then sprinkle with paprika and serve.

Yield: 4 – 6 servings

One year ago: Shortbread Candy Bars
Two years ago: Joanna Pruess's Molasses Spice Cookies
Three years ago: Cheddar Apple Frittata

Print This Recipe