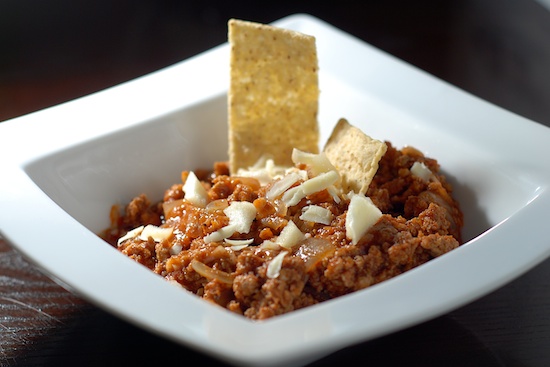 A couple of friends came over for dinner last night and I was looking for something quick and easy to make. I've had some great luck with Rachael Ray's 30-minute meals and I happened to bring the latest issue of her magazine with me when I went to pick up the boys from school. A couple of them went to piano lessons and I stayed in the playground with the other two which gave me plenty of time to peruse the recipes. I really enjoy flipping through cooking magazines. There were a number of recipes which looked really good to me, but this one appealed to me the most yesterday.
I was nervous about the heat that the chipotle peppers would add to the chili, so I scraped the seeds out of them before I pureed them. I ended up adding 2.5 tablespoons of the chipotle puree to the chili and it gave it a decent amount of heat. Not too spicy, but you could definitely feel the heat.
I didn't have pepitas on hand, so I skipped them. I'll make sure to buy some the next time I make this because I think they'll add a nice crunch to the chili. The apples and cheddar were delicious on top.   This was a really delicious, fairly quick weeknight meal.   I was thrilled that we had some leftovers for lunch today!

Chipotle Turkey Chili with Apples and Cheddar
Recipe from Every Day with Rachael Ray Magazine, October 2011 issue

2 Tablespoons extra virgin olive oil
2 pounds ground turkey (containing both white and dark meat)
1 can chipotle chiles in adobo sauce
Salt and pepper
1 Tablespoon ground coriander
1 Tablespoon ground cumin
1 Tablespoon sweet smoked paprika
1 red onion, chopped into small pieces
2 large cloves garlic, chopped
2 green apples
1/2 lemon, juiced
1 cinnamon stick
2 bay leaves
3 Tablespoon tomato paste
1 1/2 cups chicken stock
1 cup organic cider
Shredded extra sharp white cheddar cheese, pepitas (toasted pumpkin seeds) and tortilla chips, for serving

Heat the olive oil in a large dutch oven over medium-high heat. Add the turkey and cook until brown, using a potato masher or a wooden spoon to break it up.

Using a food processor, puree the chipotles and 2 Tablespoons adobo sauce (to dial back the heat level, scrape out the chile seeds first). Stir 2 Tablespoons of the chipotle puree into the meat; season with salt and pepper. Reserve the remaining puree to adjust the heat at the end of cooking (freeze what's left over in a storage bag). Stir in the coriander, cumin and paprika. Add the onion and garlic. Stir.

Peel and chop 1 apple and add to the chili. Chop the other unpeeled apple into fairly small pieces (this will be used to garnish the chili) and toss with the lemon juice so it doesn't turn brown. Add the cinnamon and bay leaves to the chili, cover and cook, stirring and lowering the heat, for 12 minutes. Stir in the tomato paste, then the stock and cider; simmer for 15-20 minutes or until the chili has the consistency that you like.

Top the chili with the cheese, reserved apple and the pepitas. Serve with the chips.

Yield: 4-5 servings

Print This Recipe