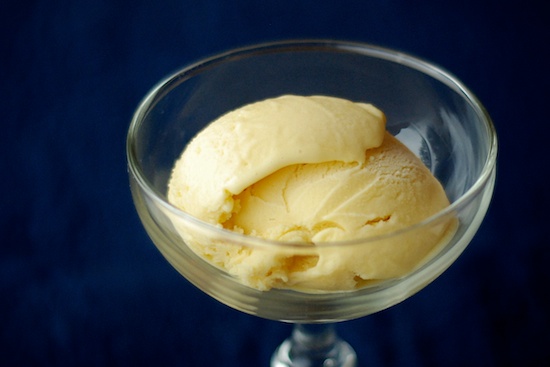 About a week ago, I made some sweet corn gelato. It's served at Otto, a Mario Batali/Joe Bastianich restaurant in NYC.   It's a recipe from Meredith Kurtzman, Otto's pastry chef. I love gelato and I love fresh corn on the cob, which is so plentiful here in the summertime, so I figured the combination would be a winner.
The gelato is a little time consuming to make. The result is incredibly smooth and creamy, but  I must say, it's a bit strange. I might go so far as to say strangely tasty. I wouldn't go so far as to say delicious, but it's definitely interesting. My husband kept tasting it to decide if he liked it or not. In the end, I'm not sure he was able to decide.
I think this is the first sweet dessert that I have made that at least one of my boys didn't like.   One took a big bite and said, "Vegetable ice cream – yuck!"  The others were a little more subtle in their dislike.
My family visited us last weekend, and I gave out tastes of the ice cream. I didn't tell anyone what flavor it was. My mom thought it tasted like condensed milk. My Aunt Susan was the closest – she guessed roasted vegetables.
I can't say that I'll make this again, but it was a fun adventure. If you are adventurous and want to try this, I recommend cutting the recipe in half. You can always make more if you like it.
Since I ended up with egg whites, I did find a great chocolate chip meringue recipe! I'll post that soon.
You can follow me on Twitter: @stylishcuisine

Sweet Corn Gelato
Recipe from Bon Appetit, August 2011

3 ears of sweet corn, preferably white, husked
3 1/2 cups (or more) whole milk
1 1/2 cups sugar, divided
1 cup heavy cream
8 large egg yolks
1 teaspoon kosher salt

Cut kernels from corn cobs; reserve cobs. Break each cob into 2–3 pieces. Bring milk to a simmer in a large saucepan. Add corn kernels and cobs. Remove mixture from heat, cover, and let steep for 45 minutes.

Remove cobs from milk; discard. Purée mixture in batches in a blender. Set a coarse strainer over a large bowl. Strain mixture, pressing on solids; discard solids. Add more milk if needed to measure 3 1/2 cups.

Bring corn mixture, 1 1/4 cups sugar, and cream to a simmer in a large saucepan over medium heat, stirring to dissolve sugar.

Set a strainer over a medium bowl; set aside. Whisk remaining 1/4 cup sugar, egg yolks, and salt in a medium heatproof bowl. Gradually whisk in hot milk mixture; return to saucepan. Stir constantly over medium heat until custard registers 175° on an instant-read thermometer, about 2 minutes.

Immediately pour custard through strainer. Place bowl with custard over a large bowl of ice water. Let stand until cold, stirring occasionally, about 5 minutes. Cover and refrigerate custard for at least 6 hours or, preferably, overnight.

Process custard in an ice cream maker according to manufacturer's instructions. Transfer to a container; freeze for at least 1 hour and up to 1 day.

Yield: ~1 quart of gelato





One year ago: Blueberry Scones with Lemon Glaze
Two years ago: Breaded Chicken Cutlets

Print This Recipe