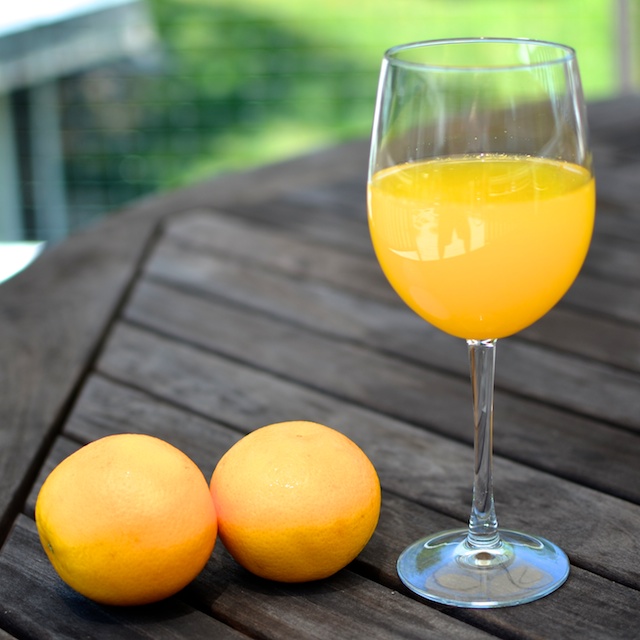 I love orangeade. I have always liked it more than lemonade. It reminds me of a trip that our family took to Florida when I was in third grade. I'm guessing that's the first time I ever had it.
Orangeade is simply a mixture of freshly squeezed orange juice, water, sugar and a little lemon or lime juice to cut some of the sweetness. If you buy Orangeade in the supermarket, unfortunately it comes with a lot of junk in it. If you buy MinuteMaid Orangeaid, for instance, here's what it contains: water, high fructose corn syrup, orange juice from concentrate, natural flavors, citric acid, annatto and turmeric. I hate when an ingredient list contains "natural flavors". I never know what's behind that term, but I do know that MSG is considered a "natural flavor", and I know that I don't want to consume that. I guarantee that this recipe for Orangeade is better than anything you can buy in the supermarket.
My son actually made this drink. We each drank a glass, then we turned the rest of it into a granita and had it for dessert after dinner. Yum!
To make a granita, pour the orangeade into a pan. We used a 9″ x 13″ baking dish. Put the dish in the freezer. Every 30 minutes or so, use a fork to scrape the ice crystals to the center of the dish. Continue doing this until everything is frozen and has a consistency similar to that of a snow cone. You can serve it as a dessert or as a slushy drink.

Orangeade

4 cups water
1 cup sugar
1 1/4 cup freshly squeezed orange juice (from about 5 – 6 oranges, depending on how juicy they are)
1 Tablespoon freshly squeezed lime juice (you can use freshly squeezed lemon juice as well)

In a large pot, make a simple syrup out of 1 cup of water and 1 cup of sugar. Heat the water and sugar, stirring constantly until the sugar dissolves. Let the mixture cool for a few minutes.

Add the orange juice, lime (or lemon) juice, and three cups of water. Stir. Sample and add more water/orange juice/lime juice if necessary to suit your taste.

Yield: ~5 cups of beverage

One year ago: Grilled Chicken with Pesto and Marinated Tomatoes
Two years ago: Alice Medrich's New Classic Brownies
Three years ago: Pasta, Pesto and Peas
Four years ago: Lemon Muffins

Print This Recipe