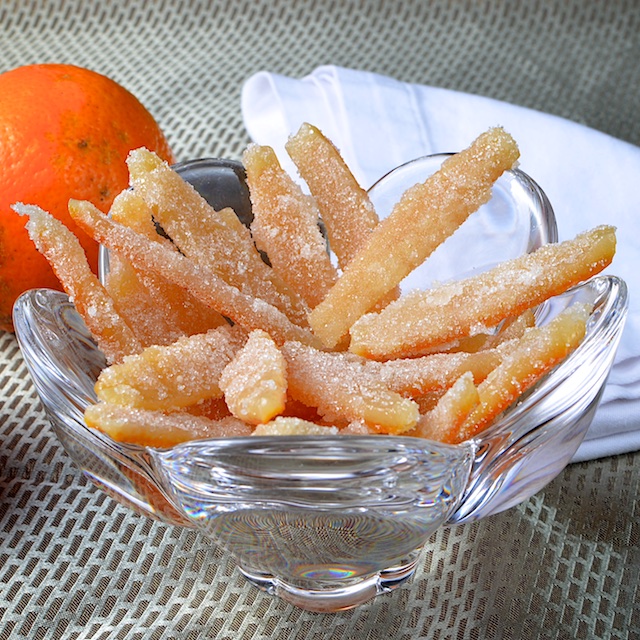 One of my sons has been asking me to make candied citrus peels for a couple of years now, but I was never able to find a recipe that received consistently good reviews. The reviews were all over the map. Last week I received a box of tangelos from Harry and David (a wonderful Christmas present that I receive from my sister-in-law every year) and my son asked again about the candied peel, so I decided to try to make them. I combined the technique from two different recipes and I was very pleased with the results. To me, these taste exactly like those orange slice candies that my grandmother used to buy me when I was little. To this day, I still love them. They're one of the very few non-chocolate candies that I like. I might even say love. They take me back to the days when my grandmother would take me to Woolworth's (which she called the five-and-ten) and let me buy a bag, which was a big deal because when I was growing up, our general rule at home was that we weren't allowed to have candy unless we were bleeding.
This recipe is not difficult, just a little time consuming because you have to boil/blanch the orange peels three separate times. Next time, I might make my segments slightly thinner.
Next, the boys want me to try lemon and grapefruit peel. They'd also like me to dip some of them in chocolate!

Candied Orange Peel
Recipe adapted from Epicurious and Food Network

2 large oranges, washed
2 1/2 – 3 cups sugar, divided
Water

Cut 1/4″ off the top and bottom of the oranges. Score the orange peel into quarters. Remove the peel including the pith. Slice the peel into 1/4″-wide pieces, lengthwise.

Bring a pot of water to a boil. Boil the orange peel for 15 minutes, then drain.

Put the peel back into a pot of cool water. Bring the water to a boil. When the water has reached a boil, remove the peel and drain. Repeat this step again then set the peel aside.

Pour 2 cups of sugar into a saucepan. Add 1 cup of water. Bring the solution to a boil, stirring to dissolve the sugar. Once the sugar is dissolved and the mixture is gently boiling, add the orange peel. Reduce the heat, cover the pan and simmer for 45 minutes. After 45 minutes, drain the peel.

Just before the peel is boiled in the sugar syrup, pour 1/2 – 1 cup of sugar into a shallow bowl. Toss a couple of pieces of peel in the sugar at a time to coat them. Once coated, place the sugared peels individually on a piece of aluminum foil. Don't let them touch or they'll stick together. Let them dry for several hours until they're no longer sticky.

Yield: ~32 pieces

Seven Years Ago: Zucchini Gratin

Print This Recipe