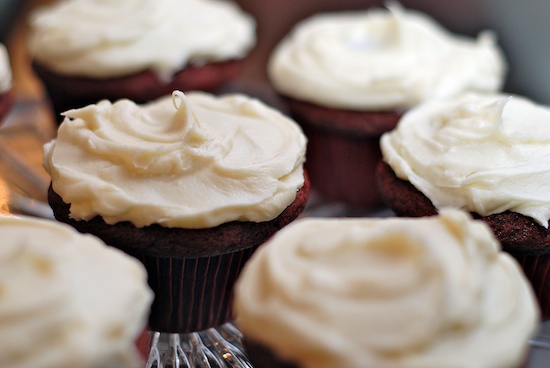 I made these for a Sunday night dessert recently.   The boys loved them.   I had only ever had a red velvet cupcake once before in my life, and I was always intrigued by them.  I was always surprised that although the cupcakes look red, they're actually chocolate.   A tangy chocolate, but chocolate.
They're really easy to throw together.  I was put off a bit by the amount of red food coloring that I had to add to the batter, and I actually couldn't add the full tablespoon because I ended up running out of it.   The cupcakes were plenty red though.
The frosting for these cupcakes is delicious.   I'll make it again the next time I make chocolate cupcakes.   Yum!
Red Velvet Cupcakes
from Barefoot Contessa how easy is that! by Ina Garten

2 1/2 cups all-purpose flour
1/4 cup unsweetened cocoa powder
1 teaspoon baking powder
1 teaspoon baking soda
1 teaspoon kosher salt
1 cup buttermilk, shaken
1 tablespoon liquid red food coloring
1 teaspoon white vinegar
1 teaspoon pure vanilla extract
8 tablespoons (1 stick) unsalted butter, room temperature
1 1/2 cups sugar
2 extra-large eggs, room temperature

Preheat oven to 350 F. Line 2 muffin tins with paper liners.

In a small bowl, sift together the flour, cocoa powder, baking powder, baking soda and salt.  In a large measuring cup, combine the   buttermilk, food coloring, vinegar and vanilla.

In the bowl of an electric mixer fitted with the paddle attachment, beat the butter and sugar on medium speed for 1 minute, until light.  Add the eggs, one at a time, and beat until combined. With the mixer on low speed, add the dry ingredients and the wet ingredients alternately in 3 parts, beginning and ending with the dry ingredients, and mix until combined.   Stir with a  rubber spatula to be sure the batter is mixed.

Scoop the batter into the muffin cups with a 2 1/4 inch ice cream scoop or large spoon.   Bake for 25 to 30 minutes, until a toothpick inserted in the centers comes out clean.   Cool completely in the pans and frost the cupcakes with Red Velvet Frosting.

Red Velvet Frosting
8 oz cream cheese, at room temperature
1 1/2 sticks unsalted butter (12 tbsp.), at room temperature
1/2 teaspoon pure vanilla extract
3 1/2 cups sifted confectioners' sugar  (3/4 lb.)

Place the cream cheese, butter and vanilla in the bowl of an electric mixer fitted with the paddle attachment, and mix on medium speed just until combined.  Don't whip!   Add the sugar and mix until smooth.

Yield:   15 large cupcakes

One year ago: Parmesan Cheese Crackers
Two years ago: Cardamom Spritz Cookies
Three years ago: Chocolate Chip Banana Bread

Print This Recipe