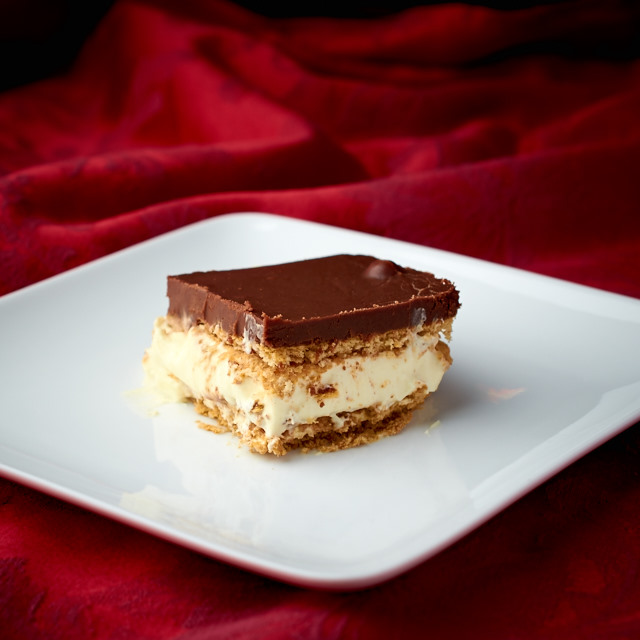 This is a dessert that one of my sons has made several times recently.  It's certainly not fancy, nor is it particularly gourmet, but what it is, is delicious! It's hard to go wrong with graham crackers, vanilla pudding and chocolate. I can do without the artificial Cool Whip, but it does make the pudding layer nice and fluffy. Next time I might try to substitute homemade whipped cream.
This dessert is a cinch to make because there's no baking involved, primarily just assembly. You need to make it several hours before you plan to eat it because the graham crackers need to soften. It's a real crowd pleaser. It would be great to bring to a pot-luck dinner if you're in charge of dessert. It doesn't always look beautiful when it comes out of the pan, but it tastes great. Our family can inhale the whole pan in a couple of sittings.
We have tried several different versions of frosting with this cake.  The frosting in the picture is the frosting I use for a Texas Sheet Cake.  It was slightly too thick for this recipe.  I recommend the frosting recipe below.  I have also heard that spreading some fudge sauce on the cake in lieu of frosting is very good. I think I'll try that next time.
No Bake Eclair Cake
Recipe from Tip Hero

Cake layer:
1 box (16 oz) graham crackers
2 packages (3.4 oz each) instant vanilla pudding
3 1/2 cups whole milk
8 ounce container of Cool Whip

Chocolate Frosting:
3 Tablespoons unsweetened cocoa powder
1 1/2 cups powdered sugar
3 Tablespoons salted butter, melted
3 Tablespoons whole milk

Whisk together the pudding and milk in a large mixing bowl until thickened, about 2 minutes. Fold in the Cool Whip.

Spray a 9×13 baking pan with non-stick spray. Line the bottom of the pan with a single layer of graham crackers, breaking them in smaller pieces to fit the edges of the pan.

Spread half of the pudding mixture evenly over the bottom layer of graham crackers. Top with a second layer of graham crackers, followed by the second half of the pudding.Top with the third and final layer of graham crackers.

Whisk together the cocoa powder, powdered sugar, melted butter and milk to make the chocolate frosting.

Spread carefully and evenly over the third layer of graham crackers.

Refrigerate overnight so the pudding has time to set up and the graham crackers soften before serving.

Yield: ~12 servings

Two years ago: Eggplant Un-Parmesan
Three years ago: Peanut Butter Blossoms
Four years ago: Ginger Scones
Five years ago: Cherry Banana Muffins with White Chocolate Chips
Six years ago: Classic Dinner Rolls
Seven years ago: Malted Milk Ball Cookies

Print This Recipe