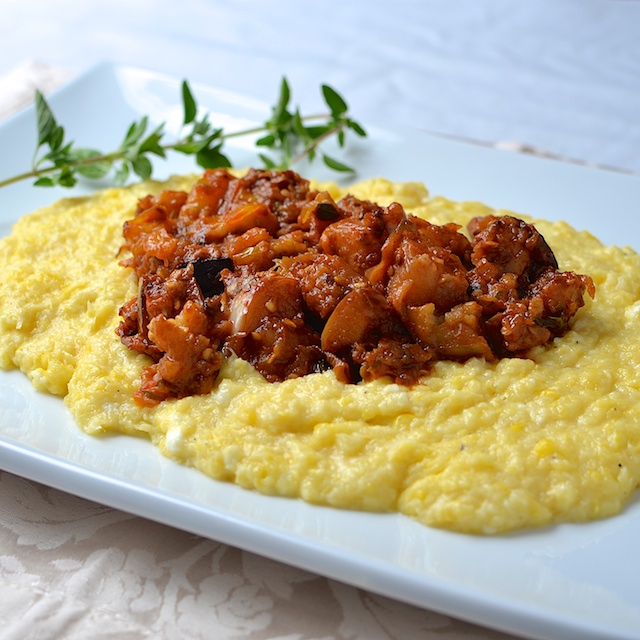 This is my favorite dish of the summer. I made it many times once corn season started. Yesterday I found some beautiful corn at the farmer's market so last night I made the just sweet corn polenta as a side dish. My Aunt Sylvia loved it so much she had three servings! I'm sorry that it's the tail end of the corn season here in the Northeast. I like this recipe so much, I plan to try it with frozen corn. I'll let you know how it turns out.
I am not a fan of pre-made polenta, especially the kind that comes in a tube. I'm also not a fan of making it from corn meal. This polenta recipe definitely takes more time that either of the aforementioned preparations, but it's well worth the effort. Promise.
The recipe calls for frying the eggplant. The first time I made the recipe, I used 2/3 cup of vegetable oil, as specified. The next time I made it, I cut that in half and the eggplant cooked perfectly. I might actually try to bake the eggplant next time to see how that turns out.
One night I didn't have any fresh oregano, so I used dried and the sauce was still delicious.
Would the boys try this? Nope.
This is going to be close to the top of my go-to summer recipe list.

Yotam Ottolenghi's Sweet Corn Polenta with Eggplant Sauce
Recipe from Yotam Ottolenghi via Food52

Eggplant Sauce

2/3 cups vegetable oil (I used 1/3 cup and it worked fine)
1 medium eggplant, cut into 3/4-inch dice
2 teaspoons tomato paste
1/4 cup dry white wine
1 cup chopped peeled tomatoes (fresh or canned)
6 1/2 tablespoons water
1/4 teaspoon salt
1/4 teaspoon sugar
1 tablespoon chopped oregano

Heat the oil in a large saucepan (wait until the oil is hot) and fry the eggplant on medium heat for about 15 minutes, or until nicely brown. Drain off as much oil as you can and discard it — the safest way to do this is to scoop out the eggplant to a plate using a slotted spoon, then pour off the oil into a bowl before added the eggplant back in.

Add the tomato paste to the pan and stir with the eggplant. Cook for 2 minutes, then add the wine and cook for 1 minute. Add the chopped tomatoes, water, salt, sugar and oregano and cook for a further 5 minutes to get a deep-flavored sauce. Set aside; warm it up when needed.


Polenta

6 ears of corn
2 1/4 cups water
3 tablespoons butter, diced
7 ounces feta, crumbled
1/4 teaspoon salt
Black pepper

Remove the leaves and "silk" from each ear of corn, then chop off the pointed top and stalk. Use a sharp knife to shave off the kernels. You want to have approximately 1 1/4 pounds kernels.

Place the kernels in a medium saucepan and barely cover them with the water. Cook for 12 minutes on a low simmer. Use a slotted spoon to lift the kernels from the water and into a food processor; reserve the cooking liquid.

Process the corn for quite a few minutes, to break as much of the kernel case as possible. Add some of the cooking liquid if the mixture becomes too dry to process. I have never needed to add any of the cooking liquid.

Return the corn paste to the pan and cook, while stirring, on low heat for 10 to 15 minutes, or until the mixture thickens to mashed potato consistency.

Fold in the butter, the feta, salt and some pepper and optionally cook for a further 2 minutes. Taste and add more salt if needed.

Yield: 4 servings

One year ago: Risotto Stuffed Tomatoes
Two years ago: Spinach and Ricotta Lasagna
Three years ago: Grilled Pork Chops with Garlic Lime Sauce
Four years ago: Mini Maple Pancake Muffins
Five years ago: Mar-A-Lago Turkey Burgers
Six years ago: Chocolate Zucchini Cake

Print This Recipe