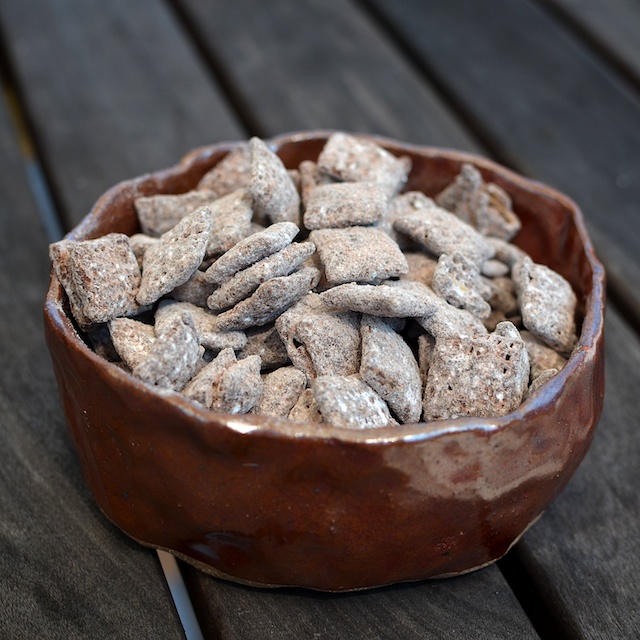 This summer I made some lowbrow, but delicious snacks for the kids. This was one of them. It's called Puppy Chow and it's chocolate and sugar coated Chex cereal. Another was a batch of Ranch Oyster Crackers. Although delicious, they call for a package of ranch salad dressing mix, which contains MSG, so I won't make them again until I can figure out how to make my own, natural ranch dressing mix.
When this puppy chow came out of the oven, I swear I could have eaten the whole tray myself. I got through a large chunk of it before anyone saw me in the kitchen. Thank goodness the kids started to dig in, or I might have exploded.
This recipe is now very high on my list of lowbrow snacks.
Dark Chocolate and Nutella Puppy Chow
Recipe from The Kitchn

5 cups Chex cereal (I used Corn Chex)
1/2 cup cocoa powder
1/4 cup plus 1 tablespoon powdered sugar, divided
1/2 teaspoon salt, divided
a heaping quarter cup of chocolate chips
1/2 cup Nutella
2 tablespoons butter, cut into 4 pieces
1/2 teaspoon vanilla

Place the cereal in a large bowl. In a small bowl, whisk together the cocoa powder, 1/4 cup powdered sugar and 1/4 teaspoon salt and pour into a gallon-size zip-top bag.

Place the chocolate chips, Nutella and butter in a microwave-safe bowl and microwave in 30 second bursts until the chocolate and butter have melted. Add the vanilla and stir until smooth. Immediately pour over the cereal and stir gently until evenly coated. Transfer the cereal to the zip-top bag and shake until well-coated with the cocoa powder mixture. Add the remaining 1 tablespoon powdered sugar and shake again.

Spread puppy chow onto a baking sheet and sprinkle with remaining 1/4 teaspoon salt. Let cool completely. Puppy chow tastes best within 1 to 2 days of making it, but will keep in an airtight container for up to 1 week.

Yield: ~5 cups

One year ago: Grilled Tofu with Homemade Barbecue Sauce
Two years ago: Grilled Asian Pork Tenderloin with Peanut Sauce
Three years ago: Mini Maple Pancake Muffins
Four years ago: Cold Noodles with Sesame Sauce
Five years ago: Zucchini Frittata

Print This Recipe