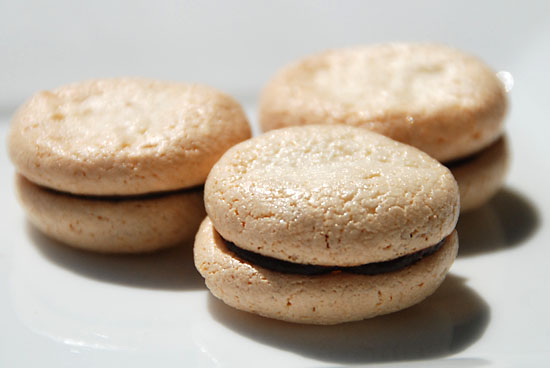 I love to make cookies, and I'm always on the lookout for new recipes.   This one comes from Gourmet Magazine this past January.  The picture above is a bit deceptive because it's hard to tell how big the cookies are.   They're small – I'd say just slightly larger than a quarter, so they're really bite-size.  You have to really like the flavor of almond to enjoy these.  I do, and I thought the cookies were delicious.   So did the boys, although they preferred them without the filling.    I liked them both ways.
What amazes me about these cookies is the ingredient list.   If you make them without the filling, there are three ingredients, and if you choose to fill them, that only adds another one or two.
Although I found these cookies to be delicious – both crunchy and chewy at the same time, I didn't find them to be the easiest to make as some of the bottoms of mine stuck to the parchment paper.   Perhaps it's because I skipped one of the steps in the instructions.    I didn't pour any hot water between the parchment paper and the cookie sheet when I took them out of the oven.    Could this have been my problem?    Not sure, but I'll try it next time.  Now mind you my cookies weren't bad, they just weren't perfect.    I'll definitely make them again.   This time I filled them with chocolate ganache.   Next time I think I'll try raspberry jam, or perhaps both.   I think almond, chocolate and raspberry together sounds quite nice.
I saw my parents at a Metropolitan Museum of Art opening the other night and brought them a couple of cookies to try.   My mom told me that they reminded her of childhood almond macaroons that she used to buy in Boston when she went shopping with her mother.  They brought back nice memories for her.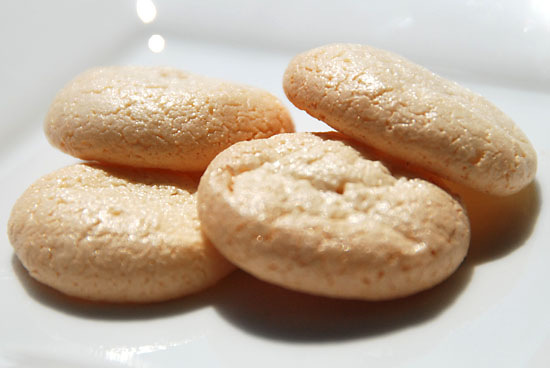 Chewy Amaretti Sandwich Cookies
Adapted from Gourmet Magazine, January 2009

1 (7-ounce) tube pure almond paste (not marzipan; 3/4 cup)
1 cup sugar
2 large egg whites at room temperature for 30 minutes

Filling (optional):

3 ounces of semi-sweet chocolate chips
1 – 2 Tablespoons heavy cream


Preheat oven to 300°F with racks in upper and lower thirds of oven. Line 2 large (17- by 12-inch) 4-sided sheet pans with parchment paper.

Pulse almond paste and sugar in a food processor until broken up, then add egg whites and pulse until smooth. Transfer to pastry bag and pipe 3/4-inch rounds (1/3 inch high) about 3/4 inch apart in pans. Dip a fingertip in water and gently tamp down any peaks.

Bake, rotating and switching position of pans halfway through, until golden and puffed, 15 to 18 minutes.

Wearing an oven mitt, rest 1 pan in sink at an angle. Lift top edge of parchment and slowly pour about 1/4 cup water between parchment and sheet pan so that all of parchment is lightly moistened (water will steam on pan, moistening bottom of cookies to help them stick together later). Repeat with remaining sheet pan. Cool cookies in pans on racks.

When the cookies have cooled, make the chocolate ganache.   Melt the chocolate chips with the cream in the microwave and stir until smooth.  Let cool slightly.

Peel cookies from parchment, frost the bottom of one with the chocolate ganache and sandwich the bottoms of cookies together.

Yield:  ~48 individual cookies or ~24 sandwiches

Print This Recipe