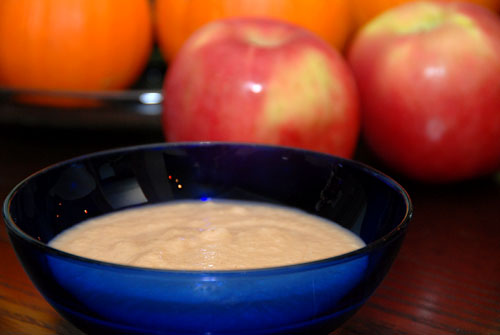 I love this time of year, when the weather gets nippy and the sky is clear as a bell.   Fall to me means pumpkin and apple picking, football games and cooking comfort food.  It's a very cozy time of year.
We went apple picking recently and as usual, I got so excited when we were there that we ended up bringing home two giant sacks of apples.   We go to Pennings Orchard in Warwick, NY where all they grow are dwarf apple trees, so it's really easy for adults and children alike to pick the apples.   No poles or ladders needed.   There are a million apples at eye-level, no matter what your height.
After our annual apple picking excursion, I always look for new apple recipes.   I made a great cheddar apple frittata the other night (I'll post the recipe soon).  But something I always make is apple sauce.   A couple of years ago I found the easiest recipe in the world and now it's my go-to apple sauce recipe.   It's on the sweet side – it reminds me of apple pie filling, but not quite as sweet.   One of my sons can eat it with every meal, and that makes me really happy.  This is really so quick and easy that you may not buy jarred apple sauce again.
When I make this recipe during apple-picking season, I use my juicer to make the apple juice that is used in the recipe.   I just keep juicing unpeeled apples until I have a cup of juice.   There's really nothing better than warm homemade apple sauce for a healthy dessert on a cold night.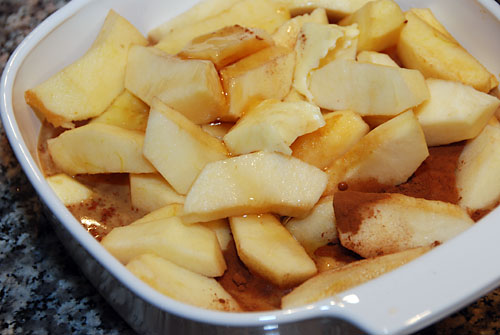 Ten Minute Applesauce
Recipe by Alton Brown

3 Golden Delicious apples, peeled, cored, and quartered
3 Fuji apples, peeled, cored, and quartered
1 cup unfiltered apple juice
2 tablespoons cognac or brandy
2 tablespoons butter
3 tablespoons honey
1/2 teaspoon ground cinnamon

In a sealable microwave-safe container, combine apples with all other ingredients. Close lid, leaving one corner of lid open to allow steam to escape. Microwave on high for 10 minutes.

Using a hand blender or potato masher, blend to desired consistency. Serve hot immediately or chill for later use.

Print This Recipe