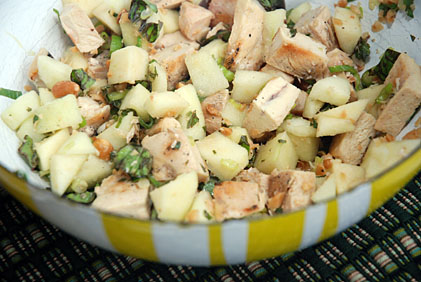 I love a good chicken salad in the summertime.   Last year I found a great recipe for chicken salad that contained curry and lots of fruit and it was my favorite summer salad at the time.  (I'll post it one of these days.)  Well move over curried chicken salad, a new neighbor has moved it.   This recipe is light and fresh and it explodes with Asian flavor when you put it in your mouth.   It's a great summer recipe when you have a garden full of fresh herbs.    
We made this recipe when some friends came to visit us this summer.   I served this, a shrimp corn salad and caprice salad.   They were all really delicious.   It was a great mid-day meal.   I also made fresh corn bread, but if you hadn't noticed, the recipe isn't on this site because it was actually terrible.   One of my sons liked it but that was about it.   I ended up throwing most of it into the woods for the birds and animals.
When I made this recipe, I had access to an outdoor grill, so I didn't follow the directions for cooking the chicken.   I threw the chicken on the grill and when it was done chopped it up and added it to the salad.  I buy big bags of frozen Purdue boneless chicken breasts at Costco.  A good friend told me that you can throw the frozen chicken directly onto the grill.   I thought he was crazy.   I thought the chicken would be as dry as dust by the time it was cooked, but if you follow the directions on the bag and throw the frozen chicken directly on the grill, you end up with a surprisingly moist, perfectly cooked chicken breast. 
I also highly recommend using rice vinegar if you have it.   It adds to the Asian flavor of the salad.
Chicken Salad with Apple and Basil
From Real Simple

4 boneless, skinless chicken breasts 
4 teaspoons kosher salt 
1 teaspoon black pepper 
1/4 cup fresh lime juice (from 2 to 3 limes) 
1 tablespoon white wine or rice vinegar 
2 tablespoons light brown sugar 
4 scallions (white and light green parts), thinly sliced 
2 Granny Smith apples (peeled, if desired), diced 
1/3 cup roasted peanuts, roughly chopped 
2 tablespoons thinly sliced fresh mint 
1/2 cup thinly sliced fresh basil 

Rinse the chicken and pat it dry with paper towels. Pound it to an even thinness. Place the chicken in a large saucepan and add enough water to cover by 1/2 inch. Add 3 teaspoons of the salt and 1/2 teaspoon of the pepper and bring to a gentle simmer. Cook until no trace of pink remains, 8 to 10 minutes. Transfer the chicken to a bowl of ice water for 5 minutes. 

Meanwhile, in a large bowl, combine the lime juice, vinegar, and sugar, stirring until the sugar dissolves. Add the scallions and apples and toss. 

Drain the chicken and pat it dry. Dice the chicken and add it to the apple mixture along with the peanuts, mint, basil, and the remaining salt and pepper. Toss and divide among individual plates.

4 servings 

Print This Recipe