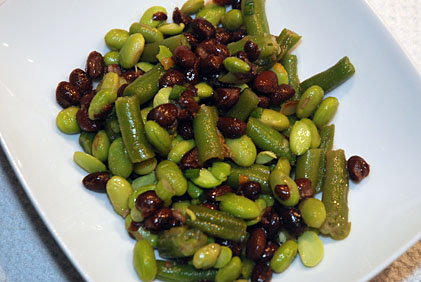 I consider this an easy summer salad because it's quick to throw together and it doesn't require any cooking!  In my book, no cooking is perfect for the summer.  This salad is really tasty with its great Asian flavor.
I don't know what it is about bean salads, but I make them every summer, always wanting to try another one.   I like to make them from scratch, but I'm also a huge fan of the big jar that you can buy pre-made at Costco.   It's a little on the sweet side, but it makes a tasty lunch if you don't have time to make something yourself.
I like this salad because I like beans, the dressing is tasty, and also because I love edamame.  And it's good for you to boot.  In just a half cup of edamame alone you're getting 4 grams of fiber, as much iron as in a 4-ounce roasted chicken breast, lots of vitamins A and C, omega-3 fatty acids and protein.  Not bad for a vegetable!   Black beans are similar to edamame in that they are loaded with fiber, protein, and iron.   There's no need for meat when you're eating this delicious salad.
The last time I made this, I used a bag of frozen string beans that I had in the freezer and it cut down nicely on the preparation time.
Asian Style Three Bean Salad
Recipe by Ellie Krieger

1 pound string beans, trimmed and cut into 1-inch pieces 
1 (10-ounce) bag frozen shelled edamame (green soy beans) 
3 tablespoons canola oil 
3 tablespoons rice wine vinegar 
1/4 cup 100 percent fruit apricot preserves 
1 tablespoon sugar 
1 teaspoon freshly grated ginger 
1 (15-ounce) can black beans, drained and rinsed 
2 scallions, sliced 
Salt 

Put the string beans and frozen edamame into a steamer basket and steam them for 4 minutes. Transfer the beans to a large bowl and put them into the refrigerator to cool for 15 minutes or longer. In a small bowl whisk together the oil, vinegar, apricot preserves, sugar and ginger. Add the black beans and scallions to the other beans, drizzle with with dressing and toss to coat. Season with salt, to taste.