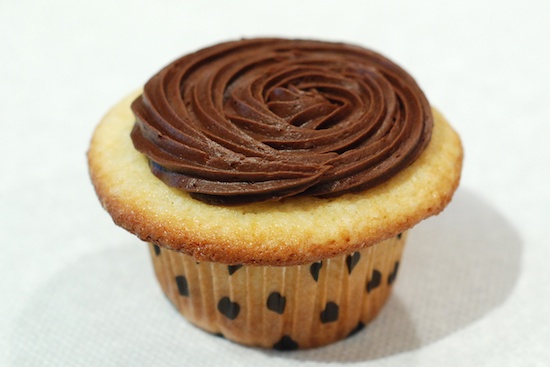 There's nothing better than a good chocolate frosting. The consistency of this one is great and it has a great chocolate flavor.  It's perfect for squeezing out of a pastry bag.
Looking at the photo, I should have put more frosting on the cupcake.
Did my boys eat this?   Yup.  They loved it.   If only I could say that about chicken soup and other savory things.

Chocolate Frosting
Recipe from Cathy Lowe at foodnetwork.com

3 cups confectioners' sugar
3/4 cup unsweetened cocoa
1 stick butter, softened
3 – 4 tablespoons heavy cream
1 teaspoon vanilla

Sift sugar and cocoa together into a large bowl. In another bowl combine 1 cup of sugar mixture with butter and 1 tablespoon cream, beating until smooth. Add another cup of sugar and another tablespoon of cream, beating well. Continue until all ingredients are combined and frosting is fluffy. Beat in vanilla.  If the frosting is too thick, add more cream, 1/2 tablespoon at a time.

Yield: enough frosting for 24 cupcakes

Print This Recipe