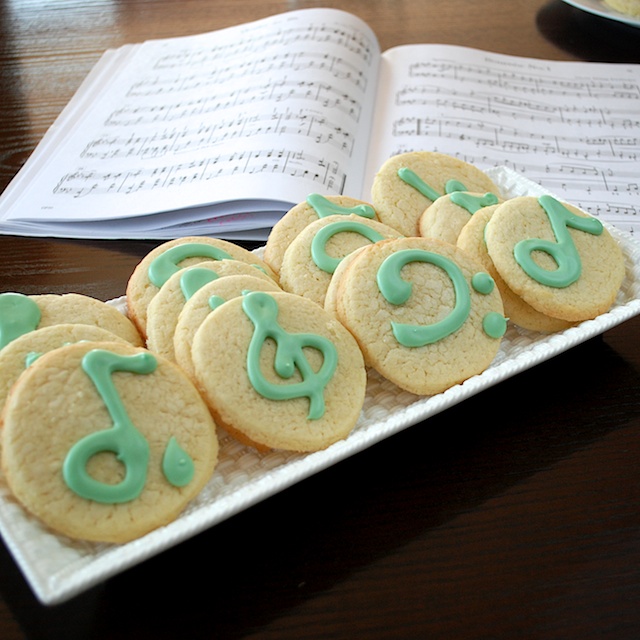 Two of our sons had their year-end piano recital yesterday and there was a reception afterwards. I volunteered to bake. I had been looking for an excuse to try a sugar cookie recipe that my sister Gail uses for all her family celebrations and this was my opportunity. The cookies are delicious, and my sister's an artist, so hers are always beautifully decorated. I was inspired to decorate the cookies for the piano reception, but as you can see, I am clearly not an artist. It also didn't help that I had just lent my piping bag and tips to a girlfriend, so I had to pipe using a plastic bag with a hole cut in it.
I will definitely make these cookies again. That said, the next time I make them, I will roll the dough a little more thickly like my sister does. I'll probably make my cookies closer to 1/2″ thick so they're a little more sturdy.
Please note that the dough needs to chill for at least an hour before the cookies are rolled. Also note that the dough gets very soft, very quickly. Once the dough is out of the refrigerator, you should roll and cut the cookies quickly.
I made the icing with almond extract. Three out of four boys like the icing. The fourth asked me to use vanilla extract instead next time.
Gail's Rolled Sugar Cookies with Piped Icing

1 1/2 cups butter (3 sticks)
2 cups sugar
4 eggs
1 tablespoon vanilla extract
5 cups flour
2 teaspoons baking powder
1 teaspoon salt

In a large bowl, cream together butter and sugar until smooth. Beat in eggs and vanilla.

Stir in the flour, baking powder, and salt.

Divide the dough into four parts. Flatten each part into a disk. Cover and chill dough for at least one hour (or overnight).

Preheat oven to 400 degrees F.

Roll out dough on floured surface to ~1/2 inch thick. Cut quickly so the dough doesn't get too soft. If the dough gets sticky and sticks to the rolling pin, dust it with confectioners sugar. Cut the dough into shapes with any cookie cutter.

Place cookies 1 inch apart on ungreased cookie sheets.

Bake 6 to 8 minutes in preheated oven.

Cool completely.

Sugar Cookie Icing

2 cups confectioners sugar
1.5 Tablespoons meringue powder
1/4 teaspoon almond or vanilla extract
1/4 to 1/2 cup warm water

Stir all ingredients together. Pipe onto cookies. If you are outlining and flooding the cookies with icing, double the recipe.

One year ago: Avocado-Mango Salad
Two years ago: Chocolate Chip Biscotti
Three years ago: Curried Carrot Soup
Four years ago: Butterscotch Blondies
Five years ago: Crispy Oatmeal White Chocolate Cookies

Print This Recipe