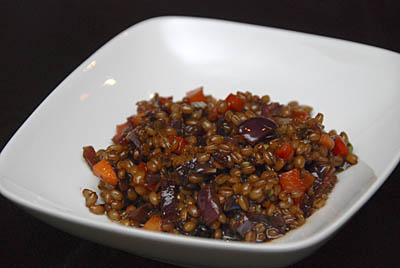 I've been trying to add more whole grains to my family's diet. I found this salad recipe which is really healthy and delicious. It's also different and a nice change from some of the normal green salads that I serve. Sometimes I'll eat just this for lunch. It also makes a really nice side dish with dinner.
I found the recipe a couple of years ago and had a really hard time finding wheat berries, but then I came across them in three places: my local farmer's market, Fairway and Whole Foods. If you don't know what wheat berries are, they're the grains of wheat that come from the wheat plant. They're a whole grain, so they have great health benefits.
I find that there are a couple of key things to remember when making this recipe. Cook the wheatberries until they are soft. The recipe suggests that they cook for an hour. That typically works for me, but I recommend that you check them and cook them until they reach your desired consistency. Another tip is to definitely make sure the salad sits for a minimum of thirty minutes before you serve it. I actually really enjoy this salad the day after I make it because the flavors have then had a chance to meld.
Will my boys even try this? No way. I hope you're more adventuresome.
Wheatberry Salad
Adapted from Barefoot Contessa Family Style

1 cup hard winter wheatberries
1/2 teaspoon Kosher salt
1 cup finely diced red onion (~1 onion)
5 tablespoons good olive oil, divided
2 tablespoons balsamic vinegar
3 scallions, minced, white and green parts
1/2 red bell pepper, small diced
1 carrot, small diced
1/2 teaspoon freshly ground black pepper

Place the wheatberries and 3 cups of boiling salted water in a saucepan and cook, uncovered, over low heat for approximately 1 hour, or until they are soft. Drain. Saute the red onion in 2 tablespoons of olive oil over medium-low heat until translucent, approximately 5 minutes. Turn off the heat and add the remaining 3 tablespoons of olive oil and the balsamic vinegar.

In a large bowl, combine the warm wheatberries, sauteed onions, scallions, red bell pepper, carrot, 1/2 teaspoon salt, and the pepper. Allow the salad to sit for at least 30 minutes for the wheatberries to absorb the sauce. Season to taste, and serve at room temperature.