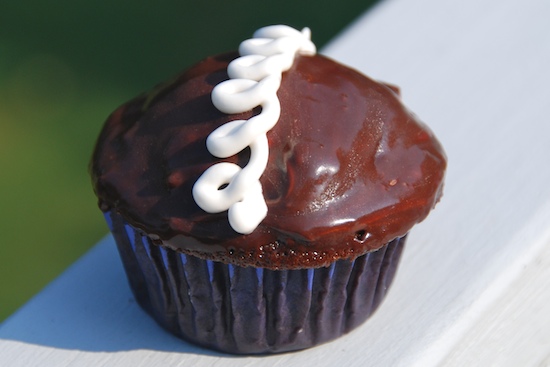 We went to a fabulous dinner party in Southampton last night at a home that can be described in no other way than Shangri-la.  I volunteered to bring something sweet for dessert so I went to my "to bake" folder to see what I had bookmarked.   There were going to be a lot of children there, so I thought these would be perfect.   Hostess cupcakes were never my favorite growing up;  I was a Devil Dog, Yodel and Funny Bone fan, but let me tell you – homemade Hostess cupcakes are incredible.   I actually just had one with my breakfast.   Not the smartest thing to do, but boy was it good.
So you know that I never read to the end of a recipe before I make it.  Another one of my faults is thinking that things will take much less time than they actually do to make.    We were supposed to be in Southampton between 4 and 5 yesterday with something sweet, and I decide to launch into these cupcakes on one of the hottest days of summer at about 12:30.  Not exactly a brilliant idea given the number of steps involved in the construction of the cupcakes.
Somehow, with the help of my husband – he's now an expert at cutting cones in cupcakes and filling them – I got them finished in time to bring to dinner.   These cupcakes are labor intensive, but quite delicious.  I'll definitely make them again for a special event.
I don't recommend making these if you need a dessert in a hurry as they took 3+ hours to make, but if you have the time, I think they're well worth the effort.
I found the recipe on a great blog called My Baking Addiction.   Check it out.  One dessert looks better than the next.
Here's a picture of one of the cupcakes cut in half. Not a great picture, but I wanted you to see the filling.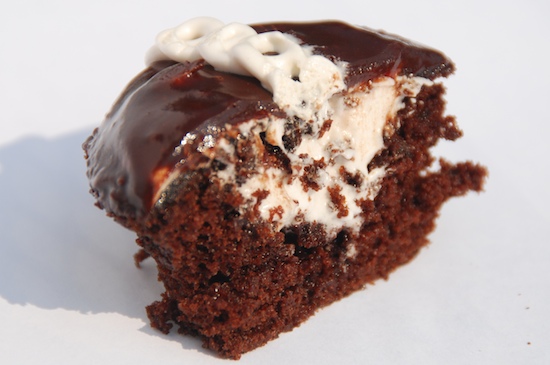 Hostess Inspired Cupcakes
Adapted from My Baking Addiction

Chocolate Cake
2 cups sugar
1-3/4 cups all-purpose flour
3/4 cup unsweetened cocoa powder
1-1/2 teaspoons baking powder
1-1/2 teaspoons baking soda
1 teaspoon salt
2 eggs
1 cup milk
1/2 cup vegetable oil
2 teaspoons vanilla extract
1 cup boiling water

Filling (Seven Minute Frosting):
2 large egg whites
1/2 cup sugar
1/4 cup light corn syrup
2 tablespoons water
1 1/2 teaspoons pure vanilla extract

Ganache
1/2 cup cream
8 ounces semi-sweet chocolate, finely chopped (I used chocolate chips)
2 tablespoon unsalted butter, softened

Preheat oven to 350°F.  Line cupcake tins with paper baking cups.

Stir together sugar, flour, cocoa, baking powder, baking soda and salt in large bowl. Add eggs, milk, oil and vanilla; beat on medium speed of mixer 2 minutes. Stir in boiling water.   The batter will be extremely thin.   Pour batter into prepared cupcake pans; 2/3 full.  Bake 22 to 25 minutes until cupcake springs back when lightly touched, and a toothpick comes out clean.  Remove from cupcake pans and cool completely.

While waiting for cupcakes to cool, combine filling ingredients with a pinch of salt in a metal bowl set over a saucepan of simmering water and beat with a handheld electric mixer at high speed until frosting is thick and fluffy, 6 to 7 minutes.   Remove bowl from heat and continue to beat until slightly cooled.   Place 1/2 cup of filling in another bowl to reserve for piping the swirls on top of the cupcakes at the end.

Once cupcakes are completely cooled, use the cone method to fill with filling.  Click here to see how it's done.   Filling the cupcakes is no easy task the first time you do it.   I found that I filled some too much and others not enough, but I was able to cover all of my mistakes by using some of the 7-minute frosting on the tops.  By spreading it over the tops of the cupcakes that were less than perfect, I was able to hide a lot of holes, crumbs, etc.  They then had a nice fairly smooth top when I dipped them in the ganache.

Once all cupcakes are filled, make the ganache. In a small saucepan, heat cream until steaming. Remove from the heat, add chocolate and let stand for 5 minutes. Add the butter and stir until smooth. Transfer the frosting to a small bowl and dip the top of each cupcake to thoroughly coat.

Spoon the reserved filling into a pastry bag fitted with a very small plain tip and pipe swirls across the center of each cupcake. Refrigerate the cupcakes for 10 minutes to set the frosting.

Yield:  ~24 cupcakes

Print This Recipe