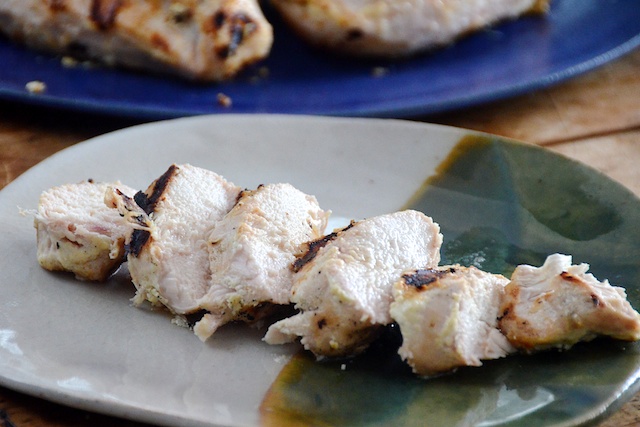 This is one of the quick recipes that I made the other day when my parents dropped by. About a month ago, we went to a barbecue to celebrate my nephew's graduation from 8th grade, and my sister grilled some yogurt-marinated chicken that I couldn't get enough of. It was so moist and flavorful. I have been wanting to make it myself ever since. I'm sure there are a million variations you can use for the marinade, but I happened to have most of these ingredients on hand when I came across the recipe. The only thing I didn't have was honey, so I skipped it. Next time I make this I'll add the honey and I'll let you know which one I like better. My prediction is that I like the addition of honey and I also predict that my husband prefers it without. I'll keep you posted.
The one thing about this recipe is that you have to be organized enough to make the marinade, which takes all of 10 minutes, at least three hours before you want to cook the chicken.
I got one son to try the chicken and he thought it was ok. As this recipe is definitely going to become part of my summer rotation, three out of four boys will try it next time. I won't make the vegetarian try it.   I make him try all kinds of other stuff.  He rarely likes any of it, but I figure it's good to expose his palate to new things. One day they'll eat.

Lemon Pepper Grilled Chicken
Recipe from Dinner, A Love Story

4 boneless, skinless chicken cutlets
1/2 cup plain yogurt
1 clove of garlic, minced
2 teaspoons salt
Juice from two lemons
1 squeeze of honey
1 Tablespoon olive oil
Black pepper to taste
Whisk marinade ingredients together until emulsified. Pour it into Ziploc bag, add the chicken, seal the bag and make sure all of the chicken is coated with the marinade. Refrigerate for at least 3 hours. Oil your grill before cooking the chicken. Cook the chicken until it's cooked through. Mine took 7 – 8 minutes on each side on a gas grill over medium heat.
Yield: 4 servings
One year ago: "Use A Spoon" Chopped Salad
Two years ago: Summer Squash with Lemon and Mint
Three years ago: Ultimate Banana Bread
Four years ago: Strawberry Lemonade
Five years ago: Fusilli and Chicken with Finger-Licking Peanut Sauce

Print This Recipe