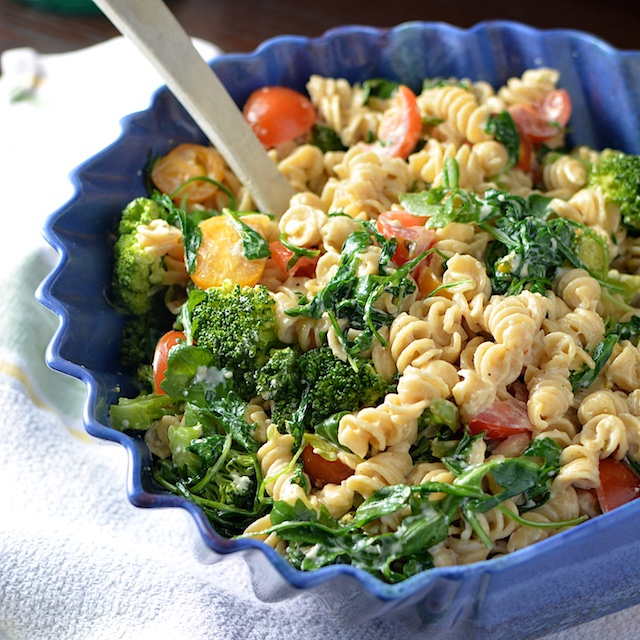 I know I have said this before, but I love Ina Garten recipes. I think I have every one of her cookbooks, and I have had great success with everything I've tried. This pasta dish is no exception.
The recipe indicates that it serves 4 – 5. I'd say it serves 6 – 7. It makes a LOT of pasta. Delicious pasta, but a LOT of it.
I am typically not a huge arugula fan, but it gives this recipe a nice bite. We had some (a LOT) left over (have I mentioned that our boys are really picky eaters?), and I noticed that the arugula flavor mellowed overnight.
For the tomatoes, I used a small container of heirloom tomatoes from Trader Joe's. Yum! I also used Trader Joe's whole wheat fusilli. Do make sure you use Kosher salt. If you don't, definitely cut down on the salt called for in the recipe.
I loved all of the fresh vegetables in the pasta, and I also loved the lemon flavor in the sauce. It's a great vegetarian meal. If you want to make it a little heavier, I think it would be nice with some chunks of chicken in it. This recipe is definitely a keeper, but next time I'll make half the recipe so we're not eating it for days on end.
Lemon Fusilli with Arugula
Recipe from Barefoot Contessa at Home

1 tablespoon good olive oil
1 tablespoon minced garlic (2 cloves)
2 cups heavy cream
2 lemons
Kosher salt and freshly ground black pepper
1 bunch broccoli
1 pound dried fusilli pasta
1/2 pound baby arugula (or 2 bunches of common arugula, leaves cut in thirds)
1/2 cup freshly grated Parmesan
1 pint grape or cherry tomatoes, halved

Heat the olive oil in a medium saucepan over medium heat, add the garlic, and cook for 60 seconds. Add the cream, the zest from 2 lemons, the juice of 2 lemons, 2 teaspoons of salt, and 1 teaspoon of pepper. Bring to a boil, then lower the heat and simmer for 15 to 20 minutes, until it starts to thicken.

Meanwhile, cut the broccoli in florets and discard the stem. Cook the florets in a pot of boiling salted water for 3 to 5 minutes, until tender but still firm. Drain the broccoli and run under cold water to stop the cooking. Set aside.

Bring a large pot of water to a boil, add 1 tablespoon of salt and the pasta, and cook according to the directions on the package, about 12 minutes, stirring occasionally. Drain the pasta in a colander and place it back into the pot. Immediately add the cream mixture and cook it over medium-low heat for 3 minutes, until most of the sauce has been absorbed in the pasta. Pour the hot pasta into a large bowl, add the arugula, Parmesan, tomatoes, and cooked broccoli. Toss well, season to taste, and serve hot.

Yield: ~6 servings

Two years ago: Buttermilk Chocolate Chip Muffins
Three years ago: Soft Chocolate Cookies with Peanut Butter Frosting
Four years ago: Chicken and Rice Stoup
Five years ago: Sugar-Crusted Popovers
Six years ago: Whoopie Pies!
Seven years ago: Chocolate White Chocolate Chunk Cookies

Print This Recipe