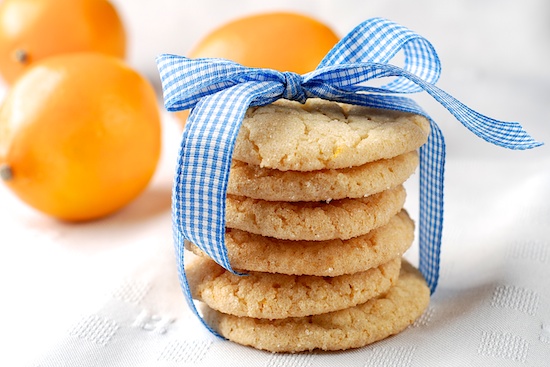 I made these cookies to bring to a PTA meeting about a week ago and I thought they were delicious! I really love lemon desserts, and these cookies reminded me of cookies that I used to buy when I was little. There were three cookies wrapped in a plastic wrapper. I think the wording on the front of the label was in green and yellow. I can't remember the brand, but the cookies were really good, and an awful lot like these. The company sold chocolate cookies, three to a package as well. I really liked those too.
If you're going to make these, please do use the fresh lemon zest. It really adds some great flavor to the cookies. When I zest lemons, I use a micro-plane grater. If you don't have one, I highly recommend that you pick one up. They're not expensive, and they make zesting citrus so easy. I also use my zester for grating fresh nutmeg and Parmesan cheese. Once you've had freshly grated nutmeg, you'll never go back to the pre-ground spice in a jar. It really is that much better, but I digress. Back to the cookies.
Don't skip rolling the cookies in sugar. It may seem like you're using a lot of sugar in the recipe, but the sugar on the outside is key. It gives the outside of the cookies a little crunch, while the inside stays soft. If you want the cookies to continue to remain soft, wrap them tightly after they cool. If you leave them uncovered overnight, you'll end up with a very crispy cookie in the morning. These are going to become part of my regular cookie rotation, especially in the spring, they're that good.
Three out of my four boys liked these. The pickiest eater gave them a thumbs-down. Go figure.
Lemon Sugar Cookies
Recipe from Two Peas and Their Pod

2 3/4 cups all-purpose flour
1 teaspoon baking soda
1/2 teaspoon baking powder
1/2 teaspoon salt
Zest of 2 large lemons
1 1/2 cups granulated sugar
1 cup unsalted butter, at room temperature
1 large egg
1/2 teaspoon vanilla extract
3 tablespoons fresh lemon juice
1/2 cup granulated sugar for rolling cookies

Preheat oven to 350 degrees F. Line baking sheets with parchment paper or silicone baking mats. Set aside.

In a small bowl, whisk together flour, baking soda, baking powder and salt. Set aside.

Using a mixer, beat together butter and sugar until smooth and creamy. Add lemon zest, egg, vanilla extract, and lemon juice. Mix until combined. Gradually blend in the dry ingredients.

Roll rounded tablespoons of dough into balls and roll in sugar. Place on prepared baking sheets, about 1 1/2 inches apart. Bake 8 to 10 minutes or until cookies are slightly brown around the edges and set. Let cookies sit on the baking sheets for two minutes before transferring to a cooling rack.

*To keep cookies soft, store cookies with a slice of bread in an air tight container.

Yield: ~3 dozen cookies

Print This Recipe