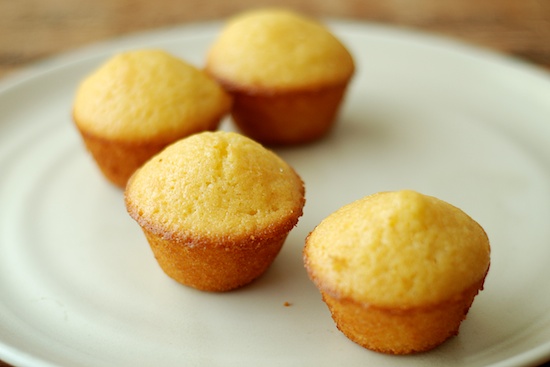 Recently, I had some of the best fried chicken I've ever eaten. It came from a tiny place in Greenport, NY called Salamanders. I tried to buy chicken there once before for the boys, but if you don't order in advance, no chicken for you!   With your chicken comes some incredibly delicious cornbread. I have searched long and hard for a go-to cornbread recipe, without much luck. I make these corn muffins all the time for the boys for breakfast, but they're not the kind of thing you'd be served at a southern restaurant with your fried chicken or ribs.
These honey cornbread muffins on the other hand, taste just like the cornbread that I was served at Salamanders, and they taste just like other cornbread that I've eaten (and loved).   I think I've found my go-to cornbread recipe (at least for now)!
Instead of standard-sized muffins, I decided to make mini-muffins (better for small hands). Typically I get 24 mini-muffins out of a standard batch of batter. This batter made 24 mini-muffins and three standard muffins.
You can now follow me on Twitter: @stylishcuisine
Honey Cornbread Muffins
Recipe from The Neelys

1 cup yellow cornmeal
1 cup all-purpose flour
1 tablespoon baking powder
1/2 cup granulated sugar
1 teaspoon salt
1 cup whole milk
2 large eggs
1/2 stick butter, melted
1/4 cup honey

Preheat oven to 400 degrees F.

Into a large bowl, mix the cornmeal, flour, baking powder, sugar, and salt. In another bowl, whisk together the whole milk, eggs, butter, and honey. Add the wet to the dry ingredients and stir until just mixed.

Place muffin paper liners in a 12-cup muffin tin. Evenly divide the cornbread mixture into the papers. Bake for 15 minutes, until golden. Cut the cooking time approximately in half if baking mini-muffins.

Yield: 12 good-sized muffins or 24+ mini-muffins

One year ago: Spaghetti and Meatballs
Two years ago: Fresh Corn Tomato Salad
Three years ago: Decadent Brownie Tart

Print This Recipe