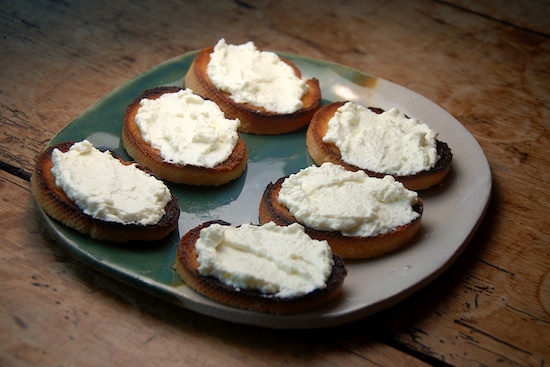 I have been very curious about making cheese for some time now.   I heard it was easy to make, but I never had the cheesecloth to make it.   I just purchased some from Amazon.   It cost twice as much as other cheesecloth on the site, but according to the reviews, I needed a very fine mesh in order to make the cheese and some of the cheaper versions weren't going to cut it.  This version worked like a charm.
Why make your own ricotta cheese you ask?   Because it tastes nothing like the store-bought version.    It's creamy – my version was more like cream cheese in texture than store-bought ricotta.   It also has a wonderful taste.    We had a little taste-test here when I made it and in comparison the store-bought version was almost tasteless.   Really.
This is very easy to make as long as you have some cheesecloth with a very fine mesh. I'm amazed that something that tastes so good is so easy to make, and has so few ingredients. When my cheese was made, I spread it on baguette slices that I brushed with a bit of olive oil and stuck under the broiler for a minute. Yum! We polished off most of the cheese the first night I made it. One of my sons made the ricotta baguette slices his whole dinner. He just kept eating them! Now if he had only eaten a salad with it, it would have been a nice dinner. The next morning, I mixed the cheese into some eggs to make a deliciously creamy serving of scrambled eggs. That was really good too. Next time (which will probably be this afternoon), I'll mix some scallions in the ricotta and spread it on baguette slices.
There are many ways to make ricotta cheese. This version uses lemon juice to curdle the milk. I know that Ina Garten has a recipe that uses vinegar. I'd say that I'd try that one next, but this one is so good I'm sticking with it.
So, until now I never really knew what curds and whey were despite having grown up reciting Little Miss Muffett. Now I know! The curds are the ricotta cheese and the whey is the milky liquid that drains into the bowl.

Homemade Ricotta Cheese
Recipe found on smittenkitchen.com (great website if you don't know it)

3 1/2 cups whole milk
1/2 cup heavy cream
1/2 teaspoon coarse sea salt
3 tablespoons freshly squeezed lemon juice

Pour the milk, cream and salt into a 3-quart nonreactive saucepan. Attach a candy or deep-fry thermometer. Heat the milk to 190°F, stirring it occasionally to keep it from scorching on the bottom. Turn off the heat. Remove from heat and add the lemon juice, then stir it once or twice, gently and slowly. Let the pot sit undisturbed for 5 minutes.

Line a colander with a few layers of cheesecloth and place it over a large bowl (to catch the whey). Pour the curds and whey into the colander and let the curds strain for at least an hour. At an hour, you'll have a tender, spreadable ricotta. At two hours, it will be spreadable but a bit firmer, almost like cream cheese. (It will firm as it cools, so do not judge its final texture by what you have in your cheesecloth.) Discard the whey. Eat the ricotta right away or transfer it to an airtight container and refrigerate until ready to use.

Yield: ~1 cup of ricotta

Print This Recipe