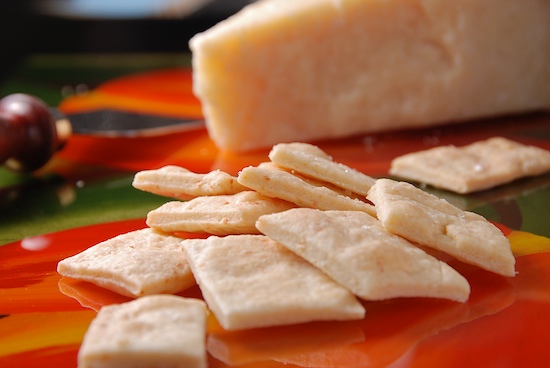 Mark Bittman is one of my favorite chefs.  I love his no-nonsense approach and his very simple recipes.   I made these crackers in about 20 minutes the other day.   It took about 10 minutes to get the dough ready and another 10 minutes to cook them.   My boys ask me to make them all the time now.    One of the boys claims he doesn't like cheese, but he really likes these.   They're like gourmet Cheez-Its.    I've made them twice now, once with Parmesan cheese and the other time with Romano cheese.   Both batches were excellent.   Next I'm going to try to add herbs and perhaps a little onion.  Yum!
If you have a couple of minutes, watch the video of Mark Bittman making the crackers.   My boys love the end of the video – the part where he takes the crackers out of the oven and breaks them apart.   They want me to try the same thing at home but I keep refusing.
I love being able to make things that are simple to cook, that I would otherwise buy at the supermarket for an exorbitant price.   This is one of those recipes.   I made and we polished off a batch tonight.   I think I'll make another batch tomorrow.
I'm adding a note based on one of the questions I was asked about the recipe.    I rolled my dough until it was about 1/8″ thick.  The recipe says to roll the dough out until it's 1/2″ thick, or even thinner.   I recommend that you definitely make them thinner.
Parmesan Cream Crackers
Recipe by Mark Bittman in the NY Times

1 cup all-purpose flour, more as needed
1/2 teaspoon salt
1/2 cup finely grated fresh Parmesan cheese
4 tablespoons unsalted butter
1/4 cup cream or half-and-half, more as needed
Coarse salt, pepper, sesame or poppy seeds, minced garlic or whatever you like for sprinkling (optional).

Heat oven to 400 degrees. Line a baking sheet with parchment paper or lightly dust with flour. Put flour, salt, cheese and butter in bowl of a food processor. Pulse until flour and butter are combined. Add about 1/4 cup cream or half-and-half and let machine run for a bit; continue to add liquid a teaspoon at a time, until mixture holds together but is not sticky.

Roll out dough on a lightly floured surface until 1/2-inch thick or even thinner, adding flour as needed. Transfer sheet of dough to prepared baking sheet (drape it over rolling pin to make it easier). Score lightly with a sharp knife, pizza cutter or a pastry wheel if you want to break crackers into squares or rectangles later on. Sprinkle with salt or other topping if you like.

Bake until lightly browned, about 10 minutes. Cool on a rack; serve warm or at room temperature or store in a tin for a few days.

Yield: About 4 servings.

Print This Recipe