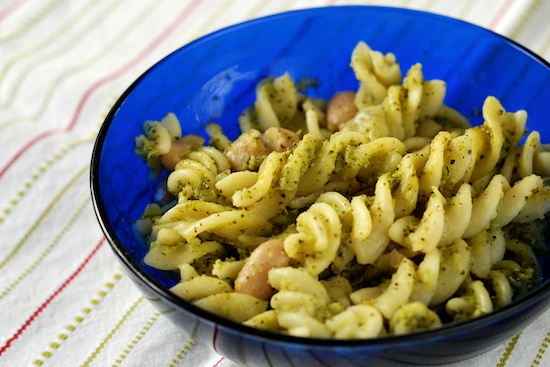 I found this recipe in my most recent issue of Everyday Cooking by Martha Stewart.    I was flipping through the magazine the other day looking for dinner inspiration, knowing that I had some tired broccoli sitting in the fridge.  I felt it was my lucky day when I came across this recipe.   I really enjoyed the dish.  It was very quick to put together and it was very satisfying to eat.   It was great as a leftover too.   All that said, I think it was missing a little something.   Not sure exactly what – a little more garlic perhaps?   Some more lemon?    More pepper?   It was very good, but needed a little extra punch.
Many recipes that I come across suggest that you save some of the pasta water.   I usually don't.   When making this, you definitely want to save some of it.   You'll use it to thin out the pesto when you mix it into the pasta.   Do make a point to save some.   Don't ignore the instruction like I usually do!
I'll most certainly make this again, especially if I have tired broccoli kicking around and I don't feel like making soup.   If I come across that magic ingredient that pumps this recipe up a notch, I'll let you know.   If you figure it out, please let me know.
Pasta and White Beans with Broccoli Pesto
Recipe from Martha Stewart

Coarse salt and ground pepper
1 bunch broccoli, cut into 1-inch pieces (about 4 cups)
10 ounces short pasta, such as fusilli
5 teaspoons extra-virgin olive oil
1/2 ounce Parmesan, finely grated (1/4 cup), plus more for serving (optional)
1 teaspoon finely grated lemon zest, plus 2 tablespoons lemon juice
1/2 cup packed fresh parsley leaves
1/2 small garlic clove

In a large pot of boiling salted water, cook broccoli until tender and bright green, about 4 minutes. With a slotted spoon, transfer broccoli to a food processor. Return water to a boil and cook pasta according to package instructions. Reserve 2 cups pasta water; drain pasta and return to pot.

To food processor, add oil, Parmesan, lemon zest and juice, parsley, and garlic. Puree until smooth, about 2 minutes, scraping down side as needed. Transfer pesto to pot with pasta. Stir to coat, adding enough reserved pasta water to make a creamy sauce. Stir in beans and heat over medium until warmed through. Season with salt and pepper. To serve, sprinkle with Parmesan, if desired.

Yield: 4 servings

One year ago: Carrot Coconut Milk Soup
Two years ago: Mexican-Style Slaw with Jícama, Cilantro and Lime
Three years ago: Vanilla Brown Sugar Breakfast Polenta
Four years ago: Chick Pea Soup

Print This Recipe