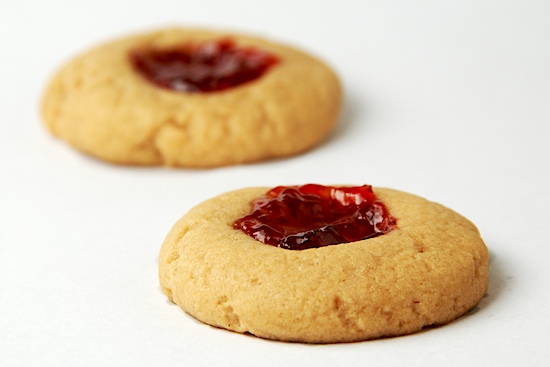 Happy New Year!
If you like peanut butter and jelly sandwiches, these cookies are for you.   Even if you don't like PB&J sandwiches (I don't), these cookies are still delicious.   They're not terribly sweet which I think is a plus.
I made these for a New Year's Eve Open House that our friends hosted yesterday.   I made these also, which I really liked too.
A dear friend of my grandmother lives in a small town called Unity, Maine. Each year, she grows her own fruit and vegetables, and cooks up a storm. In our family, she's known for her baked goods and her jam. She makes every flavor of jam under the sun, most from the fruit from her own backyard. My husband was lucky enough to get a precious jar of Mrs. Eldredge's strawberry jam for Christmas this year.   It's the perfect consistency for this cookie – firm, without huge chunks of fruit in it. If you're a jam fan, it's exquisite on toast or in a PB&J sandwich. It's also perfect for a cookie like this. Thank you Mrs. Eldredge! There's even a fair amount left over for us to continue to enjoy.
A couple of tips about these cookies. I found that I didn't need as much jam in each cookie as the recipe suggests. I also didn't find that mine melted or firmed up as described. To fix this, I put the warm finished cookies in the microwave (horrors!) for a short while (I nuked a whole plate of cookies for 20 – 30 seconds), and this melted the jam a bit without doing any harm to the cookie. I found that it made the cookies look a bit better, and they were easier to pack. When choosing your jam for the cookies, I recommend finding one that doesn't have huge chunks of fruit in it.
If you're a PB&J fan, you've got to try these.
Peanut Butter and Jam Jewels
From How to be a Domestic Goddess by Nigella Lawson, page 221

1/2 cup soft unsalted butter
1/2 cup sugar
1/2 cup plus one tablespoon soft light brown sugar
3/4 cup plus 2 tablespoons creamy peanut butter
2 large eggs
1 teaspoon vanilla extract
2 cups all-purpose flour
1/2 teaspoon baking powder
1/4 teaspoon salt
enough strawberry jam for 50 large spoonfuls

Preheat the oven to 350 F.

Cream together the buter and sugars, and add the peanut butter, beating to combine, then the eggs and vanilla. Mis in the flour, baking powder and slat to make a damp. sticky dough, and put it in the refrigerator to firm up for at least 1 hour, the bowl covered with plastic wrap.

Pinch off small amounts of dough, about as much as would make a scant tablespoonful, and roll between the palms of your hands into small balls, 1 to 1.5 inches in diameter and place on a baking sheet, flattening slightly with your hand. Make a thumbprint in each cookie, being quite firm or the indent will disappear during baking.

When the baking sheets are full, put into the oven and bake for 10-15 minutes, by which time the cookies should be just cooked. It doesn't matter if they're a bit soft, as they'll firm up on cooling, but just check the underside of one to make sure they're no longer  doughy.

As soon as you've taken the cookies out of the oven, spoon a small amount of jam (about a teaspoonful) into each indent to make a jewel. Transfer them to a wire rack to cool, by which time the jam will have melted slightly and will be sitting, bulging shinily, a red gem in the middle of its peanut-butter setting. The jam seems to harden slightly, not enough to make it unpleasant but enough to make it stay put, so you can pack these up on top of each other, in pans or Tupperware, without their coming to any harm.

Yield: ~50 cookies

Print This Recipe