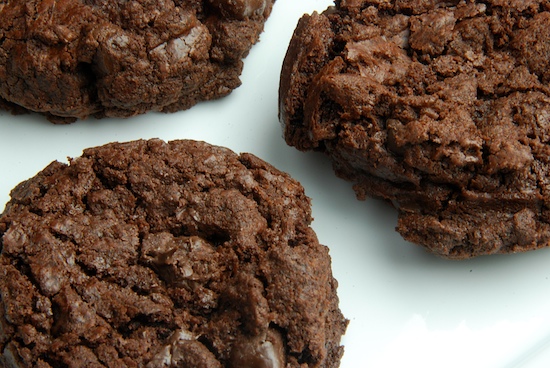 I considered myself a chocoholic until I tried these cookies.   I love all things chocolate, and I like these cookies a lot, but they're actually a bit too chocolatey.  I made them for my book club meeting the other night and I brought some vanilla ice cream to serve with them.    With vanilla ice cream, I think they're excellent.   On their own – too rich.   They definitely need ice cream or whipped cream to cut the intense chocolate flavor.
These cookies are expensive to make because of all of the chocolate that goes into them, but if you really love chocolate, give them a try.   If you try them, I  recommend that you mix up the batter and make them right away.    I had company when I was making them and made one tray at a time with breaks in between and I found that the batter dried out and started to crumble, making it difficult keep together on the cookie sheet.   I also found that these cookies don't spread much, so you may want to press them down slightly with a fork before baking them.
Everyone that tried these cookies really liked them.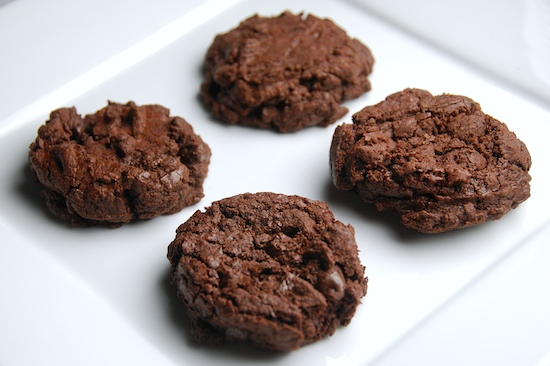 Jacques' Chocolate Mudslide Cookies
Recipe by Jacques Torres on foodnetwork.com

6 ounces unsweetened chocolate
16 ounces bittersweet chocolate
6 tablespoons butter
2 1/4 cups plus 1 tablespoon sugar
5 eggs
1/2 cup plus 3 tablespoons all-purpose flour
1 tablespoon baking powder
Pinch salt
1 1/4 cups plus 1 tablespoon walnuts, chopped
16 ounces bittersweet chocolate, chopped

Melt the unsweetened and bittersweet chocolates together and set aside.

Place the butter and sugar in the bowl of a stand mixer and mix until combined. Add the eggs 1 at a time. Add in the flour, baking powder and salt and mix just until combined. Add the melted chocolate. Stir in the walnuts and chopped chocolate pieces.

Spoon small mounds of the dough onto a parchment paper lined baking sheet. If you want to make giant cookies, use an ice cream scoop instead. Space the dough mounds evenly and bake in a preheated 350 degrees F convection oven for 13 – 16 minutes.

Print This Recipe