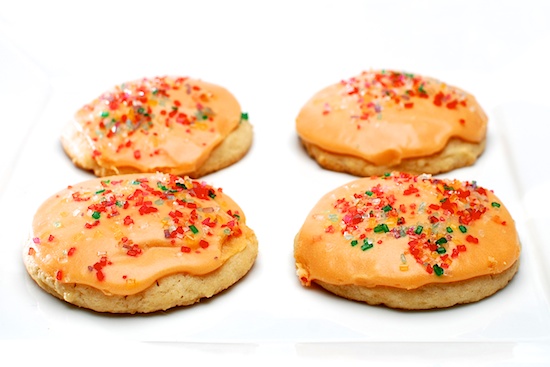 I love a good frosted sugar cookie, and these are really delicious. I learned about them, I'm embarrassed to say, when I bought a big box in Costco a couple of summers ago. Don't ever go in there hungry. They were frosted in garish colors, that don't occur in nature, but I can't tell you how good they were. From that day on, I knew I wanted to reproduce them at home.
I've made these before, but each time they disappeared before they could be photographed. I've made them in varying colors, but none as garish as the ones sold at Costco. I brought these to my son's last soccer game of the season a couple of weeks ago and everyone loved them. When I offered the extras to the coach, he was very happy to take them home. He had already eaten several.
Please note that this cookie dough needs to chill for an hour in the refrigerator before it gets baked, so don't make my mistake and try to make these right before you need them. Consequently, I sped up the chilling process by sticking my dough in the freezer.
I'm happy to finally have these photographed because I know I'll go back to this recipe over and over. Oh, it's no surprise that all four boys gave these a double thumbs up!
Frosted Sugar Cookies
Recipe from Annie's Eats, who adapted it from Hostess with the Mostess

Cookies:
4 1/2 cups all-purpose flour
4 1/2 teaspoon baking powder
3/4 teaspoon salt
1 1/2 cups (3 sticks) unsalted butter, at room temperature
1 1/2 cups sugar
3 large eggs
5 teaspoons vanilla extract

Frosting:
5 cups confectioners' sugar, sifted
1/3 cup (5 1/3 Tablespoons) unsalted butter, melted
1 Tablespoon vanilla extract
7-8 Tablespoons milk (plus more, as needed)
Food coloring (optional)
Sprinkles (optional)

Preheat the oven to 350˚ F. Line baking sheets with parchment paper or silicone baking mats. In a medium bowl combine the flour, baking powder and salt, and whisk together to blend. In the bowl of an electric mixer, combine the butter and sugar and beat together on medium-high speed until soft and fluffy, about 2-3 minutes. Beat in the eggs one at a time, mixing well after each addition and scraping down the bowl as needed. Mix in the vanilla. With the mixer on low speed, add in the dry ingredients mixing just until incorporated and evenly mixed. Cover and chill the dough for 1 hour until it begins to get stiff.

When you are ready to bake the cookies, scoop your dough and roll into a ball. Flatten the ball slightly and place on the prepared baking sheet. Repeat with the remaining dough, spacing the cookies at least 2-3 inches apart. Bake about 10-12 minutes or just until set. (Do not overbake! The edges should be no more than very lightly browned if at all.) Let cool on the baking sheet for several minutes. Transfer to a wire rack to cool completely.

To frost the cookies, place the confectioners' sugar in a medium bowl. Add the melted butter, vanilla, and milk to the bowl and whisk until smooth. Whisk in additional milk as necessary, 1 teaspoon at a time, until you reach your desired consistency. Tint with food coloring if desired. Use an offset spatula or spoon to frost the cooled cookies. (If the frosting begins to thicken as you decorate, just continue to whisk in small amounts of milk to keep it workable.) Top with sprinkles if desired. Store in an airtight container.

Yield: ~30 cookies

One year ago: Ice Cream Cone Cupcakes
Two years ago: Honey Mustard Salad Dressing
Three years ago: Chocolate Dipped Meringue Cookies
Four years ago: Peppermint Brownies

Print This Recipe