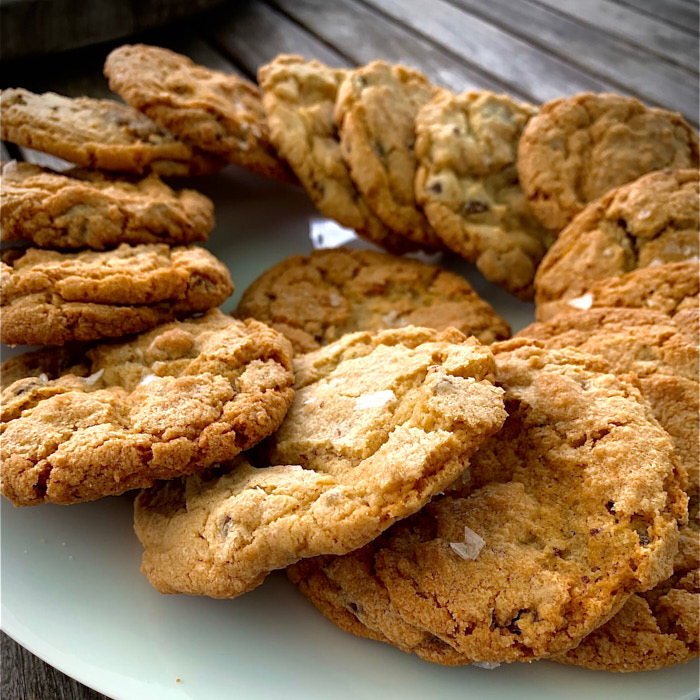 One of my sons LOVES to bake and one of my sisters gave him the best Christmas gift, a copy of Bravetart by Stella Parks. It is the most well-used cookbook in our house. Since the pandemic started and we have been spent more time at home, our oven has been working overtime. I have no complaints; we have eaten more delicious desserts than I can count.

This recipe is easy to make and the mix of chocolate, nutmeg and sprinkling of salt elevate them above your standard chocolate chip cookie. I love this recipe and just made a batch to send to one of my sons who is a freshman in college. Three of my boys started college this month, but only two are on campus. The third is at home as his school pivoted to all virtual instruction. The pandemic makes their college experience very different from anything I could have ever imagined for them. Although two are gone, I'm very grateful to still have two boys at home.

One quick word about kosher salt. If you like to use kosher salt when you're baking, it pays to buy a box of Diamond Crystal kosher salt because all kosher salts are not the same.
Chopped Chocolate Chip Cookies
Recipe from Bravetart by Stella Parks

2 1/2 cups (14 ounces) roughly chopped mixed dark, milk, and/or white chocolate
2 3/4 cups (12.5 ounces) or all-purpose flour
2 sticks (8 ounces) unsalted butter
1 packed cup (8 ounces) light brown sugar
1 cup (7 1/4 ounces) white sugar
2 teaspoons Diamond Crystal kosher salt (use half as much if iodized)
1 teaspoon baking soda
1/2 teaspoon baking powder
1 Tablespoon vanilla extract
1/8 teaspoon grated nutmeg
1 large egg, straight from the refrigerator
Maldon Sea Salt, for sprinkling

Adjust oven rack to middle position and preheat to 350°F (180°C). Place the chocolate in a medium bowl. Sift flour on top and toss to combine. Combine butter, white sugar, brown sugar, vanilla, salt, baking soda, baking powder, and nutmeg in the bowl of a stand mixer fitted with a paddle attachment. Mix on low to moisten, then increase to medium and beat until light and fluffy, about 5 minutes. With mixer running, add egg and continue beating only until smooth. Reduce speed to low, add flour/chocolate all at once, and mix to form a stiff dough.

Divide the dough into 2-tablespoon portions (about 1 1/2 ounces or 40g each and arrange them on a parchment-lined baking sheet, leaving 2 inches between cookies to account for spread. Garnish each with some Malden sea salt (or kosher salt if don't have any Malden.) Bake until puffed and pale gold around the edges but steamy in the middle, about 15 minutes. For crunchy cookies, continue baking until golden, 3 to 5 minutes more. Cool directly on baking sheet, about 5 minutes. Enjoy!

Yield: ~32 three-inch cookies


One year ago:  "Chorizo" Tacos (n.b. these are REALLY good!)
Two years ago:  Tomato and Feta White Bean Salad
Three years ago:  Sprinkle Cookies
Four years ago:  Fresh Corn Salad
Five years ago:  Summer Squash Casserole
Six years ago:  Rosemary Butter Cookies
Seven years ago:  Southwestern Chopped Chicken Salad
Eight years ago:  German Potato Salad
Nine years ago:  Cottage Cheese Pancakes
Ten years ago:  Fresh Pear Pie with Dried Cherries and Brown Sugar Streusel
Eleven years ago:  Lemon Chamomile Shortbread
Twelve years ago: Creamless Creamy Tomato Soup

Print This Recipe